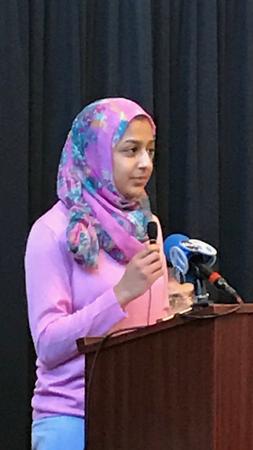 ---
US President Donald Trump's first joint-session address to the Congress, to be held on Tuesday, will see members from the Muslim community attending the occasion.

Wajdi Said and Samia Abdul Qadir have been invited for the congress session by their local representatives.

US Representative for the state of Oregon, Earl Blumenauer invited Said who is the president and co-founder of the Muslim Educational Trut and the co-founder of the Oregon Coalition for Muslim Values, the Arab-Muslim Dialogue, the Institute for Christian-Muslim Understanding and the Interfaith Council of Greater Portland, according to KATU.com

This designer dedicated an entire fashion show to anti-Trump protest

"One of the most troubling aspects of this agenda is the targeted attacks on our Muslim friends. I'm bringing Mr Said — a steadfast advocate for respect, understanding, and inclusivity — to tomorrow's address to show Donald Trump and his supporters that in Portland and in our America, we will not stand for such hateful discrimination. Mr Said and his critical work should be an example to us all: diversity is strength, not a weakness. I stand with the Muslim community and all communities now under threat," Blumenauer wrote on his official Facebook page.

[fbpost link="https://www.facebook.com/blumenauer/posts/10154958891016788"]

Samia, a 17-year-old student of the Naperville North High School was selected as Representative Bill Foster's guest after her participation in Foster's community discussion at the Islamic Centre Napperville where they discussed effects of Trump's Muslim ban on the local community, the Chicago Tribune reported.

The hijab-wearing Samia described her experience of racial profiling by a fellow classmate who said she "looked like a terrorist". "It pierced my heart," she said at the community discussion.

"I've always been taught that America's strength comes from the spirit of inclusion and diversity," Abdul-Qadir said in a statement from Foster's office, according to the newspaper. "I don't think it makes America any safer to single out a group of people because of their religious beliefs. It goes against this country's core values."

US Attorney General named for 'courage award' after defying Trump's travel ban

Chicago Tribune further adds that Foster said that America thrives on innovation, culture and diversity that immigrants bring, and no one should have to live in fear that these opportunities will be taken from them. "History has not looked kindly on us when we've prevented people fleeing violence from seeking refuge in this country," he said in a statement. "Samia's courage and conviction have stood out as a bright spot amidst an atmosphere of fear and hate."
COMMENTS
Comments are moderated and generally will be posted if they are on-topic and not abusive.
For more information, please see our Comments FAQ