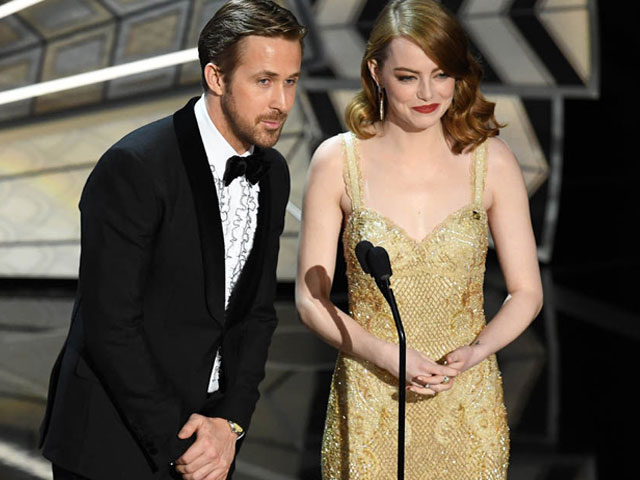 ---
Ryan Gosling and Emma Stone starrer La La Land has been this year's front runner in every award show - until last night!

In a major mix-up, La La Land was announced Best Picture, precisely for a minute, before an error was noticed, and Moonlight emerged as the rightful winner of the most prestigious award of the night.

While it all went down, here is how Ryan and Emma reacted to the same situation, very differently.

Emma in an obvious state of shock:


When Emma Stone realizes the twist ending #Oscars #BestPicture pic.twitter.com/nkm1nDLnmE

— The Mold Standard (@TheMoldStandard) February 27, 2017


And Ryan snickering in the corner, because, honestly, what else can you do at that moment?


Jordan: We didn't win. There is a mistake. Moonlight won.

Everyone: OH MY GOD WHAT

Ryan Gosling: pic.twitter.com/9kKTs2nk4K

— gua 🪐 (@stonemayi) February 27, 2017


Probably the best tweet. Our reaction was the same as Matt Damon's.


Tag yourself, I'm Meryl Streep's incredulous lean forward. pic.twitter.com/jVkRTOdQ8E

— Ellie Hall (@ellievhall) February 27, 2017


And all of us surely reacted the same way, The Academy president, Cheryl Boone Isaacs did.


.@MJSchulman talked to Cheryl Boone Isaacs, the Academy president, in the wake of last night's #Oscars flub: https://t.co/TqpZMYxKh8 pic.twitter.com/si5mgXP13n

— The New Yorker (@NewYorker) February 27, 2017
Have something to add in the story? Share it in the comments below.
COMMENTS
Comments are moderated and generally will be posted if they are on-topic and not abusive.
For more information, please see our Comments FAQ