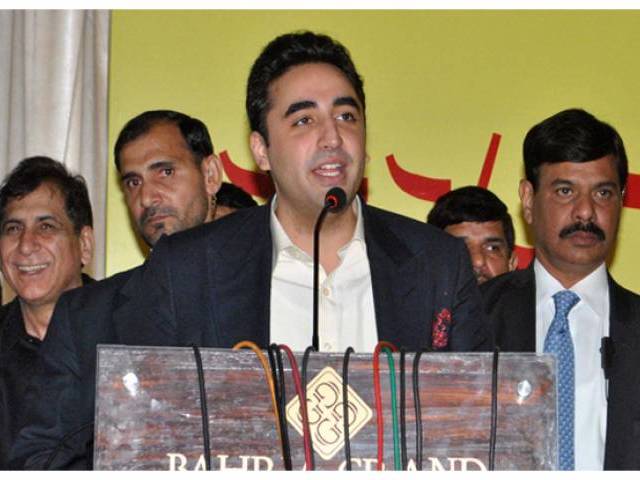 ---
KARACHI: The nation is waiting with bated breath for a Supreme Court verdict in the Panamagate case. Imran Khan's PTI, the main petitioner in the case, has high hopes, but the PPP chairman believes the judgment might not be unsettling for the ruling Sharif family.

On Thursday, a five-judge larger bench of the apex court reserved its decision in the case after 26 hearings, with the head judge, Justice Asif Saeed Khosa, stating that a short order would not be issued and that the bench would look at the case from all angles.

Nawaz dragging Pakistan deeper into debt, says Bilawal

Bilawal said he was also waiting for the court verdict before contesting a by-election. "[However] we are not hopeful about (a favourable) verdict," he said while speaking to journalists after inaugurating the 1.7-kilometre-long Sir Aga Khan Bridge, the longest on the River Indus in Pakistan at Jhirk-Mulakatiar section.

"We are not hopeful about a judgment in the Panama case against the Sharif family," he said. "Courts usually do not give verdicts against the Sharif brothers."

Asked about the recent upsurge in violence, Bilawal said the National Action Plan against terrorism should be implemented in letter and spirit, adding that it was necessary for restoring peace in the country.

Not very hopeful about Panamagate verdict being against Sharifs: Bilawal Bhutto

Terming extremism a major challenge, the young PPP chairman said the nation should wage a unified struggle against it.

Commenting on the reports regarding Irfanullah Marwat joining the PPP, Bilawal said: "It was just a meeting [between Asif Ali Zardari and Marwat] … No [such] decision was taken [during that meeting]," he said.

Published in The Express Tribune, February 28th, 2017.
COMMENTS (1)
Comments are moderated and generally will be posted if they are on-topic and not abusive.
For more information, please see our Comments FAQ