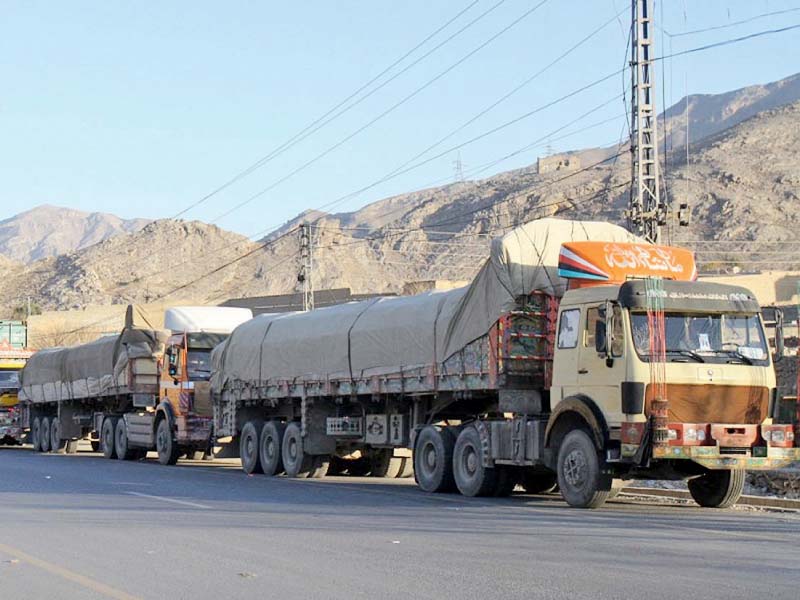 ---
PESHAWAR: Traders and transporters have suffered losses worth billions of rupees following the indefinite closure of the Pakistan-Afghanistan border, Afghan officials said on Monday.

According to them, more than 6,000 vehicles carrying goods are currently stranded on both sides of the border.

"The losses are now in billions of rupees … Not only Afghanistan but also the people of Pakistan are suffering because of the border closure," said Mervais Yousafzai, the Afghan trade commissioner in Peshawar.

Yousafzai was accompanied by officials of the Afghan commissionerate, Afghan traders and transporters at a news conference held at the Peshawar Press Club on Monday.

"Pakistani people have incurred at least 80 per cent of these losses because their goods are perishing in these [stranded] vehicles."

Afghan ambassador urges citizens to avoid 'unnecessary travel' to Pakistan

Mirvais said that bilateral trade and commerce should be impervious to politics. "Whenever such a situation arises, it must be resolved both politically and diplomatically, instead of punishing the poor people of both countries."

"The closure of border (entry and exit points) is against all international laws," said Yousafzai.

"It is against Afghanistan-Pakistan Transit Trade Agreement … It is against (the rules of the) World Trade Organisation and Saarc … We urge the Pakistan government to open the border immediately."

Yousafzai said that these issues had also been conveyed to the government of Khyber-Pakhtunkhwa without any response.

"Every day, we pay taxes amounting to Rs20 million to the Pakistan government which shows the quantum of loss being incurred by both sides on a daily basis," said Muhammad Rasool Jan, the head of Afghan Traders Association.

Calling for a new trade policy, Rasool Jan said that traders were never involved in the affairs of any country. "Why are we being victimised?" he asked. "At least 6,200 vehicles are stranded on both sides of the border," said Malik Gul Akbar, the head of the Afghan Transporters Association.

"Perishable items are now (fully) decomposed, while non-perishable items are damaging heavy vehicles."

Pakistan, Afghanistan: Business community may bear the brunt as borders close

According to him, as many as 2,100 vehicles were carrying perishable items and most of them belonged to Pakistani exporters. He also urged the inspector general of police to take action against the harassment of Afghan transporters at the hands of police officials.

"Between Khairabad and Torkham, all vehicles have to pay at least Rs52,000 to policemen manning various check posts," he said, accusing the K-P police and the political administration of tribal areas.

Stressing the need for solving all outstanding political issues between the two countries at the earliest, Akbar said that traders and transporters should not be targeted.

Published in The Express Tribune, February 28th, 2017.
COMMENTS (13)
Comments are moderated and generally will be posted if they are on-topic and not abusive.
For more information, please see our Comments FAQ