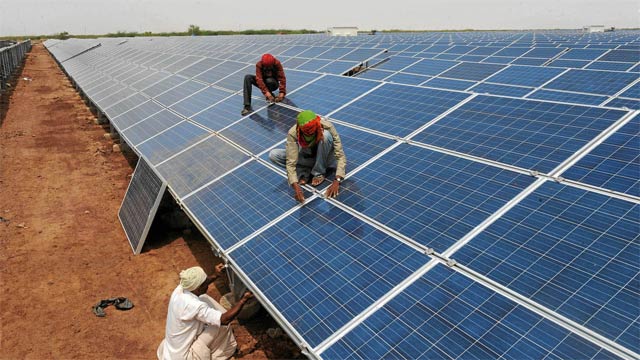 ---
ISLAMABAD: At a time when emphasis is being laid around the globe on tapping renewable and clean energy resources to satisfy growing demand, Pakistan does not want to be left very far behind.

An increasing number of companies are coming up with clean energy solutions in the country and SkyElectric Inc is the latest addition.

Alternative energy: 15,000 schools to go solar

The company launched its smart energy system in Pakistan on Monday with a pledge to provide affordable and sustainable clean solar energy. An event held to mark the launch was attended by government officials, energy stakeholders, corporate executives, homeowners, academia, green architects and builders.

Talking to media, SkyElectric CEO Ashar Aziz, founder of US-based cybersecurity firm FireEye and who featured in Forbes' annual billionaires list in 2014, said the energy crisis in Pakistan would continue for long, but the public and private sectors should make joint efforts to resolve it.

He emphasised that the solar power system was environment-friendly and could resolve the energy crisis. "Despite having nuclear resources, Pakistan still faces energy shortages, (but) the new technology will make our life better, help save money and address environmental hazards," he said.

Among other factors, global warming is also caused by the release of carbon dioxide in the atmosphere through electricity production from fossil fuels, particularly coal.

He cited the example of Germany and France that had switched to clean wind and solar energy sources to tackle the crisis.

Pointing to the co-relation between economic prosperity, gross domestic product (GDP) growth and energy consumption, Aziz stressed that the expansion in national economy could not be achieved in the absence of improved per capita energy consumption.

Uninterrupted power: Solar power restores 'life' to Fatima Jinnah park

He was of the view that the current electricity infrastructure had 15-20% financial losses because of illegal access to electricity. Backup solutions include only the Uninterrupted Power Supply (UPS) system and generators, which "could not provide continuous power".

He said the life of the UPS was only one and a half year and it was an inefficient solution in which 40% of energy was wasted. The fuel for generators is also expensive.

Highlighting advantages of his company's smart energy solution, Aziz said it would not waste energy and the battery would have a 10-year life.

He said that the technology introduced by SkyElectric suited the developing countries, which would be affordable for domestic and industrial consumers.

He said a three kilowatt per hour (kWh) solar power system would cost Rs1 million whereas 5 kWh and 10 kWh systems would cost Rs1.4 million and Rs2.4 million, respectively. "These systems will also have backup support."

A mobile phone app has been introduced to operate these systems via a smartphone.

For small industrial units that have limited resources, the company has introduced cheaper solar energy systems of 20 and 30 kWh.

"It (SkyElectric's energy system) has a levelised cost of Rs9.2 per kWh against Rs10 to Rs14 for wind energy," he said, calling it an affordable tariff.

Aziz gave a demonstration of the smart energy system, in which the audience was treated to a live interaction with the Smart Energy Console, the heart of the system.

The console is a touch screen interface, which gives insight into system operations. It has a built-in 3G chip and Wi-fi connectivity, which allows the software to relay system information to SkyElectric Cloud.

Solar Plant Permission: Catalyst Energy submits application

Technical support personnel in a network operations centre have access to the cloud and can remotely monitor and diagnose faults on the system.

Published in The Express Tribune, February 28th, 2017.

Like Business on Facebook, follow @TribuneBiz on Twitter to stay informed and join in the conversation.
COMMENTS (11)
Comments are moderated and generally will be posted if they are on-topic and not abusive.
For more information, please see our Comments FAQ