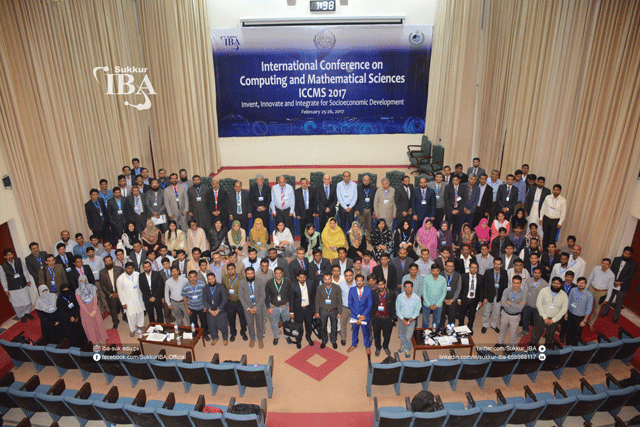 ---
SUKKUR: The final day of the two-day International Conference on Computing and Mathematical Sciences (ICCMS) 2017 ended on Sunday evening with speeches, in which knowledge was shared and research project findings were revealed.

The conference was organised at Sukkur Institute of Business Administration (IBA). The discussion began with a keynote speech by Dr Asadullah Shah, professor and head of the information systems department at the International Islamic University, Malaysia.

He spoke about the 'philosophies of knowledge, innovation and research' and said there are more than 700 mentions about knowledge, wisdom and understanding in the Holy Quran.

"The mentions may be in different contexts but the message is the same - humans should equip themselves with knowledge and understanding about universe and this world so that we acquire wisdom and deep thinking," he said.

This led to advancement in human knowledge in era in which Muslims grew by leaps and bounds in all sciences, he said, adding that unfortunately, the Muslim world has now sunk under the deep dungeon of illiteracy, ignorance and negativity.

International Conference: SALU to hold moot on research   

He compared and contrasted the philosophy of knowledge-seeking in the West and East, with emphasis on the role of religion. Dr Shah recommended that people must take serious steps to establish a society based on the moral values of justice, tolerance and scientific thinking in order to eradicate radical elements from society, which are exploiting the innocent youth by involving them in terrorism.

Dr Nazir Sangi, a professor at Allama Iqbal University, discussed the 'Model for Socio Economic Development Professional Students'. In his speech, Dr Sangi highlighted the role of information technology in national progress.

He said that, according to a survey he conducted, 69% of youth possess smart phones with internet access and as a result of this we have huge potential of information and communication technology (ICT) based economic activities, which need to be unleashed.

Going global: IBA hosts international conference   

"Pakistan is among a number of nations with huge underutilised youth manpower in the field of ICT," he said.

According to Dr Sangi, there are many jobs and business opportunities related to ICT in the fields of news channels, the media, security and software and web development. He gave a glimpse of the global online education landscape and role played by virtual universities in educating people who otherwise could not afford higher education.

He said that emergence of Massive Open Online Courses has completely changed the future of education, converting it into distance learning which does not cost much.

Dr Muhammad Umer Altaf is a research scientist at the UNESCO-Institute of Hydraulic Engineering's Institute for Water Education, the largest international postgraduate water education facility in the world, and is based in the Netherlands.

He gave a presentation on data assimilation to predict natural disasters at sea. He shared how the Netherlands, a country prone to largest sea-related storms, implemented early warning systems to predict disasters.

Research work: AIOU holds second international conference on social sciences

Dr Altaf said that many places in Pakistan, like Karachi, are highly prone to sea-related disasters and the establishment of an early warning system is mandatory across the globe, as it helps the population move to safer places in case of natural calamities.

He referred to an open source software called 'OpenDA', which has the capability of predicting storms and air and seawater levels. Dr Altaf also offered his services in case Pakistan is ever willing to develop such an early warning system.

The conference concluded with many sessions on various tracks of computing and mathematics in which young researchers presented their research work supervised by senior professors and researchers.
COMMENTS
Comments are moderated and generally will be posted if they are on-topic and not abusive.
For more information, please see our Comments FAQ