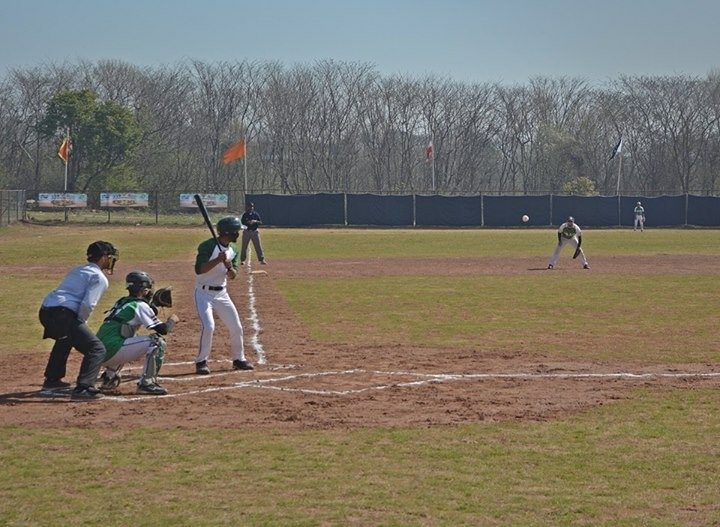 ---
KARACHI: Five-time defending champions Pakistan, who are looking to secure their place in the 2020 Olympic qualifiers in Thailand, cruised into the semi-final of the 2017 West Asian Baseball Cup after comfortably defeating Iraq 25-0 in Islamabad on Monday.

Arsalan Jamshed and Faqir Hussain scored four runs each, while captain Sumair Zawar, along with Amin Afridi, Riaz Khan and Wasim Ali, scored three apiece. Umair Bhatti and Muhammad Majeed, meanwhile, contributed two runs each, while Fazal Khan chipped in with one run.

Centre fielder Muhammad Rafi was in buoyant mood after the match and said that the team is confident of defending their crown. "This match was quite easy. We have a decent team and it's all about how we coordinate among ourselves. We've been the top side till now and we are confident that we will be able to defend this crown," he said.


Usman confident of defending baseball title for fifth time


Pakistan are ranked 24th in the world and fifth in Asia, while they have been the western division's champions for the past three editions.

Rafi has been playing baseball for the last eight years, although this was the first time he represented Pakistan internationally. "Domestically I play for Army and I can safely say that more players are joining baseball now. I'm just excited that I got to be a part of this team in this tournament; it has been extremely exciting for all of us."


Pakistani-Canadian teen left in intensive care after baseball bat attack


Pakistan Federation Baseball (PFB) is hosting the tournament while Nepal, Iran, Sri Lanka and Iraq are featuring in the event taking place in Islamabad. India were also invited but visa issues scuppered their participation.

Meanwhile, for Iraq's first baseman Mohamed Abdul Wahab Ali, the tour has been a learning curve and he is hoping to come back the next time as well.  "The tournament is great, but the sad thing is that we didn't play too well. However, we are hoping to come back next year and put in a better performance. We need to improve our batting significantly and we have a whole year to do that."

PFB Executive Director and team manager Syed Fakhar Ali Shah lauded the government for their assistance in helping the federation hold an international event in Pakistan. He, however, rued the fact that not much is being done about improving the facilities in the country.


Beleaguered Knicks finally get something to cheer about


"We only have two baseball fields in the country; the Pakistan Sports Board has set one up, while the other one is a private field. We have a lot of potential but we are not utilising it to its fullest. I hope events like these can convince the government to increase their support in developing the sport," he said.
COMMENTS
Comments are moderated and generally will be posted if they are on-topic and not abusive.
For more information, please see our Comments FAQ