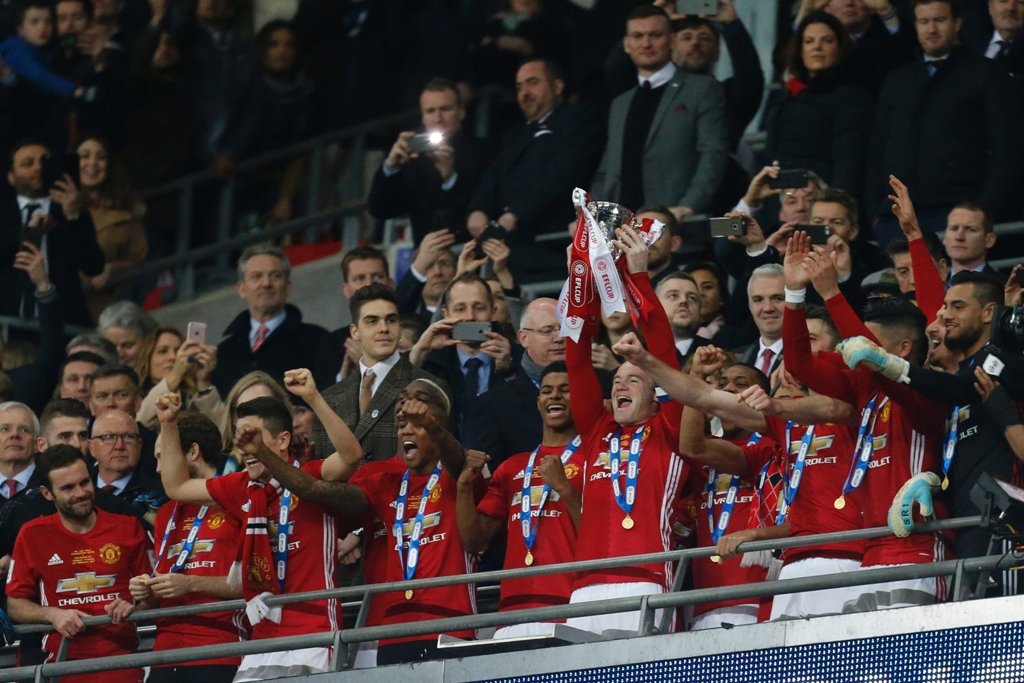 ---
LONDON: Jose Mourinho has challenged his Manchester United stars to use their dramatic League Cup final win against Southampton as a springboard to bigger prizes.

Mourinho lifted the first major trophy of his United reign on Sunday after Zlatan Ibrahimovic's late header clinched a 3-2 victory at Wembley.

The 54-year-old is the first United manager to win a major competition in his maiden season at Old Trafford and the 19th trophy of his glittering career made him only the third boss, after Alex Ferguson and Brian Clough, to enjoy four League Cup triumphs.

https://twitter.com/GersUnited/status/835969485089693696

Now Mourinho wants his players to learn from the winning feeling as they chase FA Cup and Europa League titles this term, and ideally Premier League and Champions League glory next season.

"The reality is that we want more: my contract is long, I have two more years with this one, so hopefully I can win more," said Mourinho. "This season I know it's difficult, but the reality is we have to try to fight for more."


Mourinho aims for League Cup glory


Despite the landmark occasion, Mourinho wore a stern expression during the trophy presentation.

But he insisted he was merely hiding his pride because he wanted his players to soak up the adulation. "I am very happy. I always try to put myself in the secondary position — it's important for the fans, the club, the players — but it's also important for me," he said.

After watching United blow a two-goal lead as Manolo Gabbiadini struck twice for the Saints before Ibrahimovic's winner, Mourinho conceded his team had been fortunate.

"You could feel in the game the difference in freshness. Southampton were in Spain, relaxing and preparing, and we were playing Europa League and FA Cup," he said. "We coped because we are humble, we stuck together and fought together, then we had a bit of luck because the 3-2 came at a moment when they couldn't react."

Although more silverware this year would be nice, Mourinho knows the main target is to guarantee Champions League action next season by securing a top-four Premier League finish.


My dream has died, says Ranieri


The key to achieving that will be keeping Ibrahimovic fit and firing on all cylinders.

The Swedish veteran, who also scored United's opener with a fine free-kick, was written off by many when Mourinho signed him on a free transfer last year.

Yet he has defied the critics with 26 goals in all competitions, and Mourinho said he never doubted the forward. "I was his manager, I know his potential," said Mourinho of their previous spell together at Inter Milan. "Only a silly player comes to England at 35 years old, and with the successful career that Zlatan has, if he doesn't feel he can do it (he wouldn't have come)."

Ibrahimovic's future remains uncertain as his contract expires at the end of the season but, while Mourinho won't plead with him, he expects the star to stay.

"I never beg for a player to sign a contract. I never beg for a player to play for me," said Mourinho. "But if needed, maybe United fans can go to the door of his house, and stay there all night if needed! We all want, and believe, that he is going to stay another season."