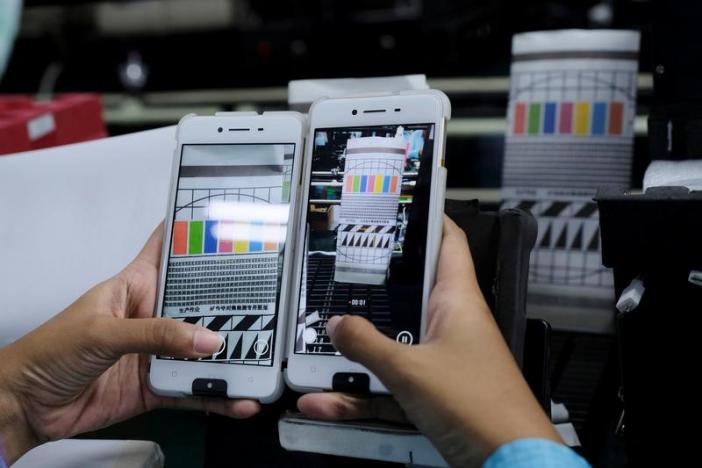 ---
BARCELONA: China's Huawei, LG and other phone firms unveiled new smartphones on Sunday as they tried to capitalise on Samsung's withdrawal of its flagship device after faulty batteries led several of the handsets to catch fire.

Samsung, the world's largest mobile phone maker, had no device of its own to show at the week-long Mobile World Congress, the phone industry's largest annual trade fair, in Barcelona in northeastern Spain, its usual showcase.

The company is taking its time to put out a new handset after it was forced to recall millions of its Galaxy Note 7 phones and discontinue the model in October.

The delay in putting out a new phone comes as its parent firm, South Korean conglomerate Samsung Group, is caught up in a corruption scandal that saw its chief arrested last week.

Huawei seeks to exploit Samsung gap with new P10 smartphone

Apple, the world's second largest smartphone maker, as usual steered clear of the event, leaving smaller phone makers with a rare opportunity to grab the spotlight at the fair.

China's Huawei, which has taken aim in recent years at both Samsung and Apple in the high end of the market, presented a new flagship model, the P10 and the larger P10 Plus on Sunday, the eve of the official start of the fair on Monday.

The devices feature dual Leica rear camera lenses, a longer-lasting battery and fingerprint sensor system.

But the upgrades would not be enough for the company to close the gap with its main rivals, Samsung and Apple, said Thomas Husson, consumer devices analyst at Forrester Research.

"Huawei is a brand that lacks a strong personality, especially in the United States and in Western Europe," he said.

The company managed to gain some ground on Samsung and Apple last year, increasing its share of the smartphone sector to 8.9 per ent in 2016 from 7.3 per cent a year earlier, according to the Gartner consultancy group.

Iconic Nokia 3310 is back

Samsung saw its market share shrink over the same period by two full percentage points to 20.5 per cent and Apple contracted to 14.4 per cent from 15.9 per cent.

Richard Yu, chief executive of Huawei's consumer business group, reaffirmed that the company's goal is to become the world's number one smartphone seller "maybe in five years".

"We are focused on the goal of becoming the market leader, we hope to get there," he told AFP on the sidelines of the presentation of the new phones.

South Korea's LG unveiled a new flagship model that is designed for split-screen use so that can show two apps at once. It also has dual rear cameras.

Chinese telecoms giant ZTE unveiled what it said is the world's first smartphone compatible with the lightening-fast 5G mobile internet service that networks expect to have up and running by 2020.

Two former big name phone brands -- Nokia and Blackberry -- also unveiled new devices on the eve of the congress as they attempt to make a comeback.

Nokia presented three new Android smartphones and showcased a revamped version of its iconic 3310 model more than a decade after it was phased out.

China's TCL brings back physical keyboard in new BlackBerry KEYone

BlackBerry debuted a new high-end device, the KEYone, that brings back the brand's signature physical keyboard and has a larger screen than previous models.

Like Nokia, its new phones will be made under licence by a Chinese manufacturer.

While Samsung did not present a new smartphone, it did present two new tablets with improved screens, battery life and speakers.

The congress comes as smartphone sales in developed markets, mainly Western Europe and North America, are poised to peak this year, according to research firm CCS Insight.

"Unless we see a major new disruption similar to the one prompted by the Iphone's arrival in 2007, we expect smartphone sales in Western Europe and North America to slowly decline after 2017," said CCS analyst Jasdeep Badyal.

CCS predicts the global phone market will reach 2.35 billion units in 2019, up from 1.96 billion in 2014.
COMMENTS
Comments are moderated and generally will be posted if they are on-topic and not abusive.
For more information, please see our Comments FAQ