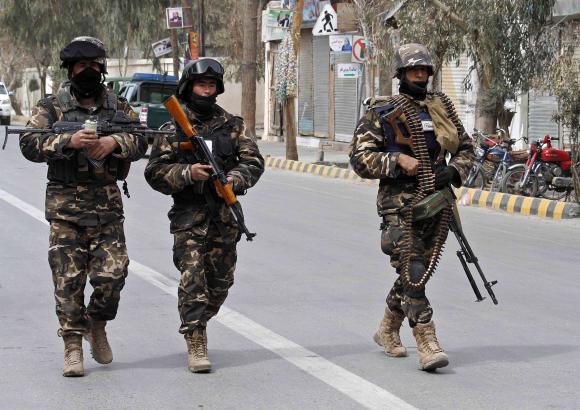 ---
A senior Afghan Interior Ministry official has alleged that a terror attack last month that killed five Emirati diplomats in Kandahar was planned in Pakistan.

"The attack was planned in Mawlawi Ahmad Madrassa in Chaman, Quetta," Sediq Seddiqi, a spokesperson for the Afghan Ministry of Interior, told Voice of America.

UAE says ambassador to Afghanistan injured in Kandahar bomb attack

A senior UAE police official held the Afghan government responsible for the deadly bombing in Kandahar which on January 10 killed five UAE diplomats and injured its ambassador. The blast had occurred inside the Kandahar governor's high-security guest house where the UAE diplomats, including Ambassador Juma Mohammed Abdullah Al Kaabi, gathered for dinner.

Afghan intelligence officials said their investigations shed light on the increasing links of some madrassas in Pakistan with Afghan Taliban.

VOA's report claimed thirty thousand madrassas operate across Pakistan, most of them legal and adhering strictly to religious teaching, the report said. "But thousands of them are not registered with the government and are teaching grounds and recruiting points for militants and Taliban, according to Pakistan and Afghan intelligence officials," it added.

Balochistan Home Minister Sarfaraz Bugti has claimed thousands of Afghan Taliban are studying in seminaries across the province.

"There are many seminaries where Afghan Taliban are studying, and many are owned by the Afghan Taliban group," Bugti said while speaking to Voice of America's Deewa service.

Much of the militant activity is centered in Balochistan, where 5,500 madrassas operate as boarding schools. Many of them are kept from government scrutiny and are breeding points for terror, VOA's report further said.

"You can see madrassas in every street, and they are spreading extremism to every house, community and village of Pakistan," Khadim Hussain, a security analyst, told VOA.

According to Balochistan provincial government estimates, more than 5,000 Afghans are studying at madrassas in the province.

The Afghan Taliban's influence over the unregulated madrassa network is most visible in the Pashto-speaking belt of Balochistan, where Afghan militants can easily travel between Afghanistan and Pakistan, officials said.

"There are 191 madrassas in my district, 21 of them unregistered, and some 20 per cent of the enrolled students are Afghans," said Qaisar Khan Nasir, a provincial official in Qilla Abdullah district, which has a Pashtun majority population and borders Afghanistan's Kandahar province.

Aminul Hasnat Shah, the minister of state for religious affairs, told VOA that funds for most of these madressahs originate abroad, mostly in Arab countries. "The government is monitoring the money trail and how this money is spent and utilised by the madrassahs. We want to ensure that these funds are not used for any suspicious activity or to promote extremism through Islamic seminaries in Pakistan."

Regional proxies or inside job? Kandahar attack reveals intricacies of Afghan conflict

Shah said the government "has pledged to reform these madrassahs through registration and change of syllabus" and it was determined to "keep an eye on any extremism-related activities or links in these madressahs."

Ihsan Ghani, chief of the National Counter Terrorism Authority, said the government was forming a new national counter-extremism policy, which includes reforming the madrassa system. The government had vowed to register all unregistered madrassahs, he added.

This article originally appeared on Voice of America.
COMMENTS (11)
Comments are moderated and generally will be posted if they are on-topic and not abusive.
For more information, please see our Comments FAQ