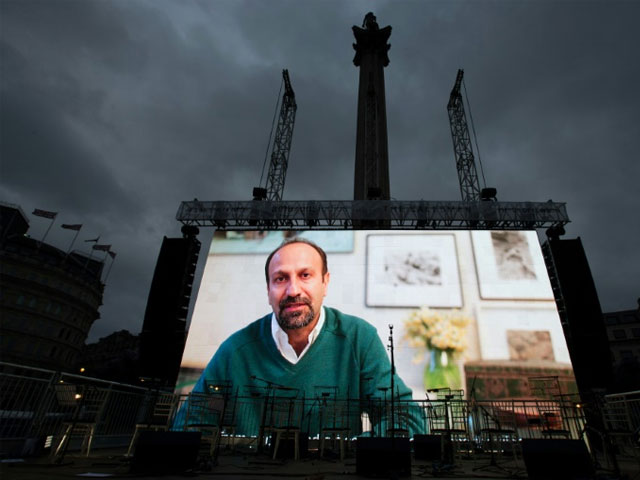 ---


Iranian film The Salesman on Sunday won the Oscar for best foreign language film, but director Asghar Farhadi skipped the Hollywood gala in protest at a travel ban by US President Donald Trump.

Farhadi initially said he would head to Hollywood for Oscars night, where his film -- the story of two actors whose relationship turns sour during a performance of Arthur Miller's Death of a Salesman -- earned a statuette.

But after citizens from seven Muslim-majority countries were briefly denied entry last month to the United States, he decided there were too many "ifs and buts" about whether he would be allowed to enter the country.


Instead, thousands of people watched
The Salesman
 for free in London's Trafalgar Square.
In a statement read at the Oscars in his name, Farhadi said he was staying away in solidarity as people had been "disrespected" by Trump's policy, which is currently on hold after a decision by a federal appeals court.
"Dividing the world into the US and 'our enemies' categories creates fear -- a deceitful justification for aggression and war," he said in the statement read at the Hollywood gala by the Iranian-born US engineer and astronaut Anousheh Ansari.
"These wars prevent democracy and human rights in countries which have themselves been victims of aggression.
Iran actress to boycott Oscars over 'racist' Trump visa ban
"Filmmakers can turn their cameras to capture shared human qualities and break stereotypes of various nationalities and religions. They create empathy between us and others -- an empathy which we need today more than ever."
'Fanaticism and extremism'
At the age of just 44, Farhadi has established himself as Iran's most acclaimed director, touching people around the globe with stories that resonate beyond borders.
This was his second film to win an Oscar in the foreign language film category, following the 2012 victory for
A Separation
 -- a stark, powerful family drama about Iran's fractured social classes, which also picked up a Golden Globe.
Coming at another dark time in relations between the United States and Iran, when international sanctions were at their peak, Farhadi's 2012 speech was lauded back home for putting Iranian art, culture and history above politics.
But this time, politics trumped art.
His statement in January blasted the rising mood of "fanaticism and extremism" and compared Trump to hardliners in his own country.
"Instilling fear in the people is an important tool used to justify extremist and fanatic behaviour by narrow-minded individuals," he wrote.
His lead actress, Taraneh Alidoosti, also boycotted the event, calling Trump's visa ban "racist".
The measure has been put on ice by the US federal courts, and Trump's White House is devising a new order.
Restrictions breed creativity
Working in the Islamic Republic for most of his career, Farhadi has had to turn limitations into sources of creativity.
"There are two types of censorship: official censorship and self-censorship, which is much more dangerous," Farhadi once said.
Outside Iran, "the restrictions no longer weigh me down, but I am still subject to a conditioning that's beyond my control," he said.
"I try to see that as an advantage rather than a hindrance and to respond in a creative way."
Can Asghar Farhadi bag another Oscar for The Salesman?
Born in 1972 near the ancient city of Isfahan, Farhadi was swiftly drawn towards the arts, becoming interested in writing, drama and cinema while still at school.
He later took courses at the Iranian Young Cinema Society and graduated with a master's degree in film direction from Tehran University in 1998.
'Complex but fluid'
The Salesman
 also found success at last year's Cannes film festival, with Farhadi winning best screenplay and his star Shahab Hosseini named best actor.
It was his second official festival selection after his French-language film
The Past
 in 2013, which won the ecumenical jury prize.
The structure of Farhadi's scripts "is always complex but fluid," cinema writer Beatrice de Mondenard said at the time.
Record number of black actors get Oscar nominations
"He seeks to show the difficulties inherent in relationships between people, the choices faced by everyone, choices which make us question our values and our convictions."
Farhadi's
About Elly
, which tells of a woman who vanishes on a beach getaway with friends, scooped the Silver Bear award for best director at the 2009 Berlin film festival.
Other films include
Dancing In The Dust, Fireworks Wednesday 
and
 Beautiful City.
Have something to add in the story? Share it in the comments below.