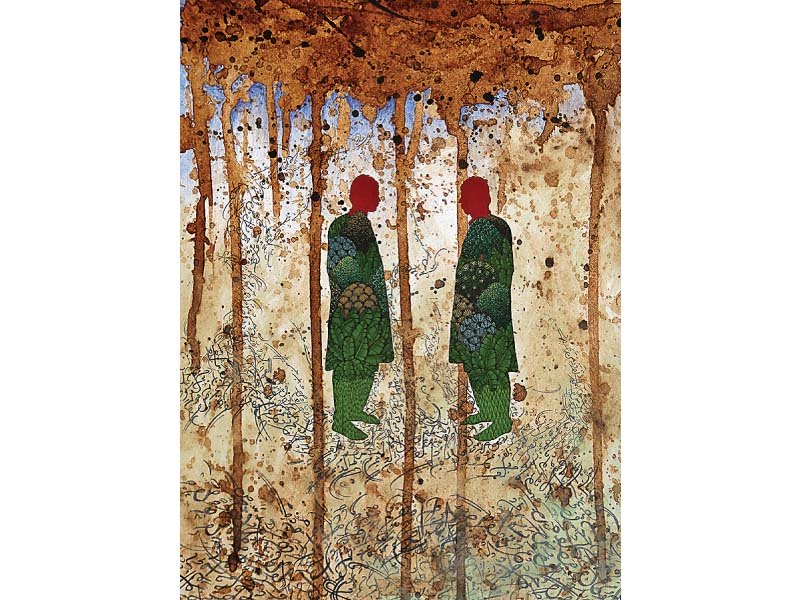 ---
LAHORE: An exhibition featuring 13 works of two celebrated graduates of Lahore's National College of Arts – Waseem Ahmed and RM Naeem – went on display at O Art Space Gallery on Saturday. The exhibition will continue till March 11.

While Naeem, an assistant professor at the National College of Arts, has tried to force people to think through his work, Waseem's art is inspired by the current political and social issues.

Talking to The Express Tribune, Naeem said an artist served as a thinker in any society and ended up pointing out the many societal problems. "I have selected my images like words for the viewers to interpret either as a very basic idea or a construct of complex poetic notions out of these words," said Naeem, who graduated with distinction in fine arts (painting) from the NCA in 1993. "I personally believe that nations can only move forward when they actively engage in a thinking process."




Contemporary artist Waseem's work is inspired by the current political and social issues. He has used historically iconic images such as the Greek god of war to showcase what is happening these days politically and socially.

Talking about the concept behind his work in miniature and mix media, Waseem said the country was going through a recent wave of terror that nobody could escape from.

"History of war and violence is as old as humans, and it manifests itself in different forms in every era such a cruel king, the world wars, Taliban rule and nowadays suicide bombers," he elaborated. "Violence has somehow persisted in different shapes but its nature and effects on people have not changed much. My work questions if as human beings we have collectively never made any genuine efforts to deny that."

Waseem graduated from NCA in 2000 in the field of miniature painting. He is one of the few contemporary Pakistani artists who have recently turned towards ancient Mughal traditions, fusing it with modern elements. His work highlights intricate and delicate brush-work which lends an exclusive distinctiveness to his pieces.

Curator Irfan Gul said the show was important because it was a combination that has never happened before.  "Naeem and Waseem are extremely well-reputed artists in the country and they have done very well in the contemporary art scene of Pakistan," he said.

Through the show, he added, his team had tried to give a positive message and a break from all the negativity around.

"As a newly established gallery, we are interested in showing works which are contemporary and can contribute to the positive image of the country," he said. "We went on with the show because we believe if we sit around giving up on everything, it will only add to the negativity and would not help anyway."

Published in The Express Tribune, February 27th, 2017.