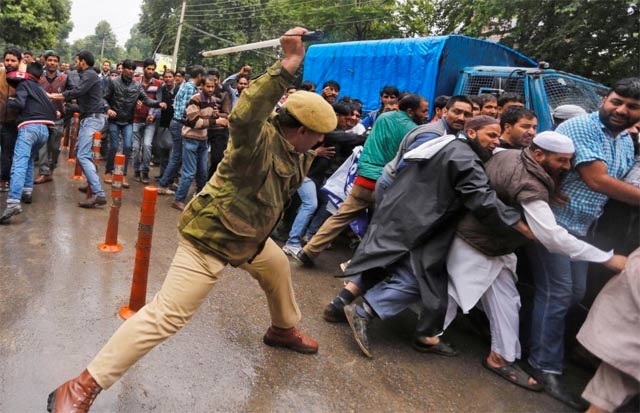 ---
MUZAFFARABAD: Two youths from Indian Occupied Kashmir (IOK), who had inadvertently crossed the Line of Control (LoC) two years ago, were handed over to the Indian authorities on Saturday.

The two IOK citizens—Bilal Ahmad, 23, and Afraz Yousaf, 24, — were repatriated at Kaman Bridge of Chakothi-Uri crossing point at the LoC, some 61 kilometres away from the capital city of Azad Jammu and Kashmir (AJK).

Civil-military officials from both the sides were present for the repatriation.

"Both the youths belong to Gurez Bandipora and Kupwara districts and had unintentionally crossed the LoC in 2014 from Nikru and Chelyan sectors of AJK," Deputy Commissioner Jehlum Valley Hameed Kiyani said.

Mamnoon urges world to raise voice for Kashmiris

Guardians of both the youths were present on the occasion.

Pakistani officials presented gifts, bags, shoes, dresses and sweet boxes to Ahmad and Yousaf.

Emotional scenes were seen at the exchange were the youth and their parents broke down into tears.

The repatriated Kashmiris expressed their gratitude for handing over their missing boys in good health, Deputy Commissioner Kiyani said.

Last April, Pakistani military officials repatriated a woman, Shakila Banu, from Chakothi area who had also entered AJK by mistake.

Amending the law: AJK decides to ban child labour

In July 2015, two Kashmiris who had also inadvertently entered into AJK were handed over to the Indian authorities.

A resident of Diawara village of Sialkot, Rashida Bibi, who had crossed the border three days ago was gunned down by the Border Security Force (BSF). Her body was later handed over to family members at the working boundary.

Published in The Express Tribune, February 26th, 2017.
COMMENTS
Comments are moderated and generally will be posted if they are on-topic and not abusive.
For more information, please see our Comments FAQ