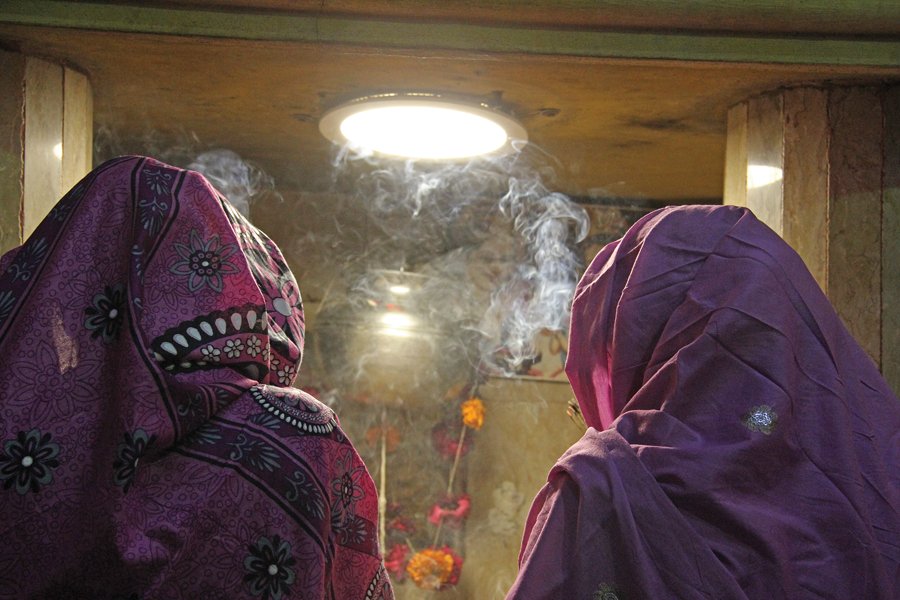 ---
MANSEHRA: The Hindu community in Mansehra cut short its annual three-day Maha Shivaratri festival by a day owing  primarily  to the prevailing security situation.

"We normally celebrate this festival for three days every year, but our elders decided to cut it short," Darshan Lal, a Hindu care taker of the Shiv Temple in Mansehra,  told The Express Tribune on Saturday.

Shivaratri festival is celebrated by Hindus around the world as it is believed it is the day when Lord Shiva and Parvati got married. Members of the Hindu community from different parts of Pakistan gather at the estimated 1,500 years old Shiv Temple in Chiti Gati Gandiyan of Mansehra district.

The festival began on Friday evening amid tight security with over 700 fasting devotees from as far as Abbottabad, Kohat, Banu, Mardan, Peshawar and Rawalpindi. They performed puja and traditional rituals such as Ashnan (bathing) of Shiv with milk and honey.

On Saturday, the devotees performed the rites of mehndi and Sehra bandi of Shiva. Amid reverberating sounds of bells and chants of "Shankerji ki Jai" (hail Shiva), devotees circled around the linga between three to seven times, praying for the well-being of their husbands and sons besides prosperity and good health for their families.

However, the festivities were cut short a day ahead of schedule as the pundits including Sham Lal, Chaman Lal and Ratan conducted a special puja.

Speaking to The Express Tribune, Darshan Lal  enumerated  the reasons behind cutting the festival short. He said firstly that they did not have sufficient space to accommodate all the devotees in the temple and its surrounding village. Secondly , owing to the security situation, he said the elders had decided to end their celebrations on Saturday afternoon instead of Sunday evening.

Darshan Lal further said that prolonged power outages and the prevailing security situation across the country too had contributed to the pundits' decision to change the schedule in the larger interest of their community.

"Pakistan is our country and we are equally concerned about the prevailing situation and pray for it", he said.

All visiting devotees, he said, had left under tight security provided by the police. He added that four to five members of his family would perform the remaining rituals till Saturday night before leaving for Abbottabad on Sunday morning.

To a question, Darshan Lal said local police had provided adequate security during the festival. He denied that there was any pressure from police to cut the festival short.

Published in The Express Tribune, February 26th, 2017.