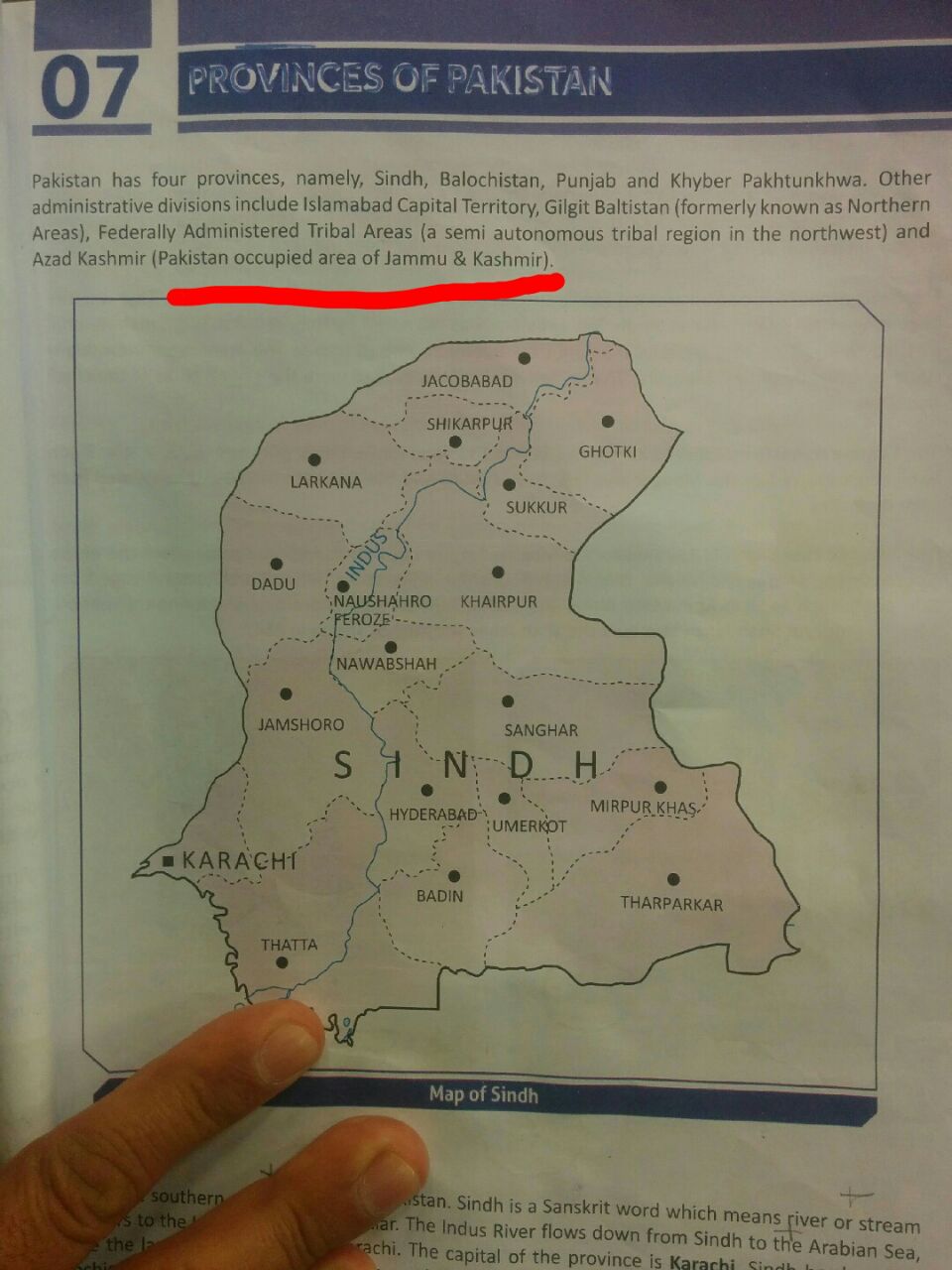 ---
ISLAMABAD: A social studies text book currently being used in many private schools in Islamabad labels Azad Jammu and Kashmir as 'Pakistan Occupied Kashmir'.

Chapter 7 of the Social Studies for Pakistan; An integrated Course of Environment and Social Studies, Book 5 begins with a passage stating "Pakistan has four provinces, namely, Sindh, Balochistan, Punjab and Khyber-Pakhtunkhwa. Other administrative divisions include Islamabad Capital Territory, Gilgit-Baltistan (formally known as Northern Areas), Federally Administered Tribal Areas (a semi-autonomous tribal region in the northwest) and Azad Kashmir (Pakistan occupied area of Jammu and Kashmir)."

"The term is Pakistan occupied area of Jammu and Kashmir as highlighted in the text book, can easily muddle young Pakistani minds," said PPP Senator Sehar Kamran, who filed a calling attention notice with the Senate secretariat seeking attention of the Capital Administration and Development Division (CAAD) on the issue.




The fifth grade textbook in question is available in Karachi, Lahore, Islamabad, Sukkur, Faisalabad, Peshawar and Abbotabad, according to publisher Paramount Books (Pvt) Ltd. It is possible private schools in these cities have ascribed it too.

The book, in that same passage which falls on page 65, mentions other regions as 'divisions', a factual anomaly.  It describes Fata as one region when it in fact comprises seven agencies and six frontier regions.

AJK is not only described as Pakistan occupied Jammu and Kashmir but also as 'Azad Kashmir'. The state is officially called Azad Jammu and Kashmir since many parts of it were part of Jammu before partition.

Senator Sehar, herself an educationist originally, claims there are several other mistakes not only in this book, but many other texts being taught in both government and private schools. She wants the government to set up a body to review the whole curriculum being taught in education institutions across the country to purge it of glaring mistakes.
COMMENTS (12)
Comments are moderated and generally will be posted if they are on-topic and not abusive.
For more information, please see our Comments FAQ