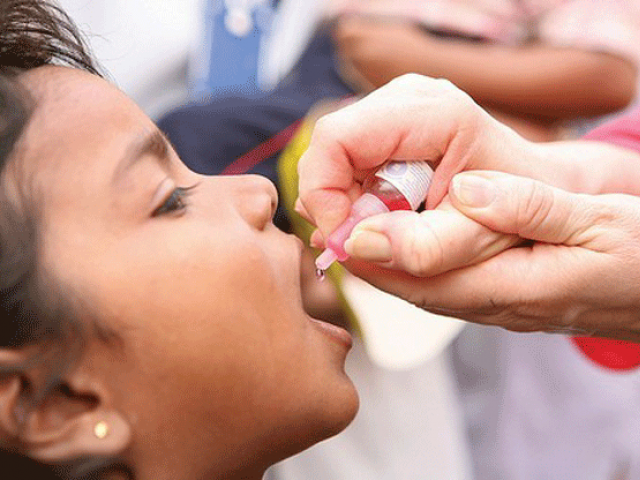 ---
KARACHI: Not all acute flaccid paralysis cases are polio virus and they need to be dealt with responsibly by the media, said epidemiological specialist at the World Health Organization (WHO) and senior adviser at the Emergency Operation Centre (EOC), Sindh, Dr Tom Grein.
"The virus is hard to find since only one in 200 infections cause paralysis and that's the reason the detection of a single polio virus case by laboratories is termed an outbreak of the polio virus," said Dr Grein during an orientation session for media personnel on the polio virus in Sindh. The session was organised by the EOC and Unicef at Pearl Continental Hotel on Saturday.
He asserted that inactivated polio vaccines can only prevent the virus, whereas oral polio vaccine can eliminate it.

Anti-polio drive: Over 0.8m children to be vaccinated

He explained that unhygienic environments, low immunity, malnutrition and climate patterns are reasons why Pakistan has not been able to eliminate the virus since 1988 when the global polio eradication campaign was started.
"We are very close to rooting out one of humankind's most contagious viruses, which is said to be an enormous task much like the eradication of smallpox. The last smallpox case was reported in 1977 in an African country," Dr Grein maintained.
He added that polio can only be diagnosed in a laboratory, such as the WHO regional reference laboratory for polio eradication at the National Institute of Health.

Anti-polio drive: 306,850 kids to be immunised  

Former MPA and religious scholar Maulana Umar Sadiq said it is time to eradicate polio from Pakistan by waging a war against it. He said no religious scholar is against the administration of polio vaccines and have actually given religious edicts in its favour. "I request everyone to administer their children with polio drops and those who deny it cause serious harm to their children and the entire humanity," said Sadiq.
On the occasion, EOC, Sindh, technical coordinator Shahnaz Wazir Ali said the financing of the polio campaigns is based on agreed targets from the Islamic Development Bank and if the targets are achieved, the loan will be converted into a grant and will be financed by the Bill and Melinda Gates Foundation.
She added that amongst other major financers of the campaigns are the governments of Pakistan and UAE. Ali said that 0.1 cents is being spent per child per campaign.

Crippling virus: State of polio in Sindh is painful, laments CM

EOC, Sindh, coordinator Dr Fayaz Jatoi said their target is to interrupt the circulation of virus in 2017, which is a critical year, and only then will Pakistan be able to obtain the status of a polio-free country within two or three years.
He maintained that the missed children are a serious cause of concern due to lack of awareness and lack of demand for the vaccine amongst parents for their children.
COMMENTS
Comments are moderated and generally will be posted if they are on-topic and not abusive.
For more information, please see our Comments FAQ