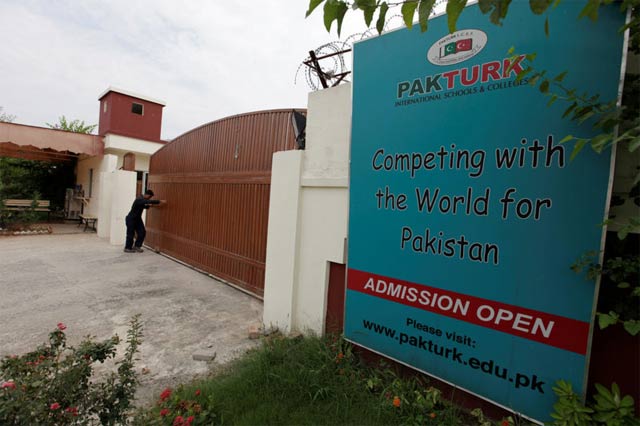 ---
LAHORE: Parents of students of Pak-Turk schools and colleges blasted the Pakistan government for handing over the education system to a Turkish nonprofit organization called Maarif Foundation. They alleged the move was an effort to gain political millage.

Speaking to the media at the Lahore Press Club on Friday, parents representing the Pak-Turk International Schools and Colleges Parent-Teacher Association said their children's future was put at stake to "please a foreign political party".

They said that the schools and colleges would suffer if handed-over to the "poorly-equipped and infamous" Maarif Foundation.

The speakers underlined they would be forced to take their children out of the schools if the government went ahead with the plan. They also threatened to protest, along with students, against the government.

The parents said those taking over do not understand the education systems in Pakistan, whether it is matriculation or Cambridge.

Pak-Turk International Schools and Colleges Parent-Teacher Association was represented by Qadeer Hussain, Adnan Kakar and Ghazala Bano. They all agreed Maarif Foundation was an infamous entity that would destroy the future of their children. Qadeer Hussain claimed that any school handed over to the Maarif Foundation was closed-down. "It is unacceptable that a complete chain of high-performing schools will be being destroyed at the behest of a foreign political party."

Adnan Kakar said that the way Turkish teachers, who spent decades educating Pakistani children, were treated was shameful. He added foreign dictation would not be accepted as it was matter of their children's future.

He alleged the government was pressing the Pakistani staff and teachers of the Pak-Turk Foundation to accept the Maarif Foundation.

"There have been a handful of countries that stood by Pakistan to the extent that their citizens lived and served the host nation without any fear. Contrary to the Islamabad High Court directions, the Punjab government's Counter Terrorism Department has been harassing Pak-Turk Foundation Alamgir Khan and trying to force his hand to resign. This will pave the way for an illegal takeover by the politically-backed Maarif Foundation".

Ghazala Bano alleged members of the Maarif Foundation were involved with ISIS and some were imprisoned on terrorism charges. She said that around 30 teachers from Maarif were being trained at the National University of Modern Languages (NUML).

"They are being taught English. How will they teach when they are learning the language of education at this stage?"

She said Turkey's domestic political issues should not impact Pakistani society and the government should think about the associated risks. She added the future of more than 15,000 students was at stake.

Published in The Express Tribune, February 25th, 2017.