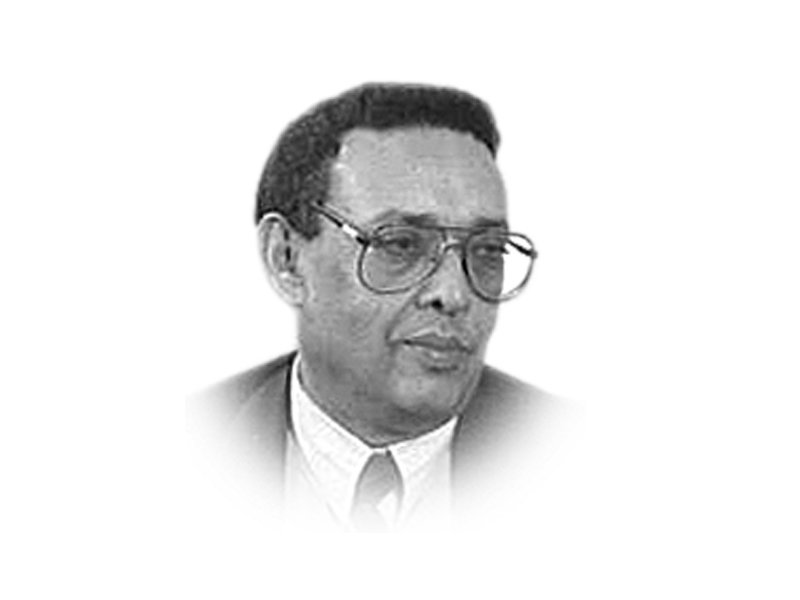 ---
Recent cataclysmic events have plunged our world into much turbulence. Established ways and traditions of the past are giving way to tumultuous changes. Our world has drastically altered from the past. Anger, impatience and impetuosity are replacing politeness, respect for others and basic decency.

The global framework established after World War II is being altered by fragmentation and by sharp religious divides. With the collapse of the USSR, the United States became a dominant superpower. It excels in cutting-edge research, innovation, creativity, technology and learning. American universities have been a source of much academic pride for the country. They are a magnet for attraction of leading intellects from the world over.

With the election of a bigoted, narcissistic and autocratic person as the current US President, the entire edifice of that country has been shaken to the core. That is also having turbulent repercussions all around the globe.

It is to the credit of American society that large masses of people are protesting against the religious and racial policies of the new President. One telling example is the reported resignation of around a thousand State Department officials who refuse to endorse these policies.

The large corpus of law, jurisprudence and freedoms in America are an immensely precious heritage. Despite deviations, the political structure of the country rests on those legal foundations. The system of constitutional checks and balances and the strength of their state institutions may yet prevent a further descent into breakdown.

It was an inherent democratic strength that enabled the election of a black President with a Muslim middle name to lead the country for eight years. Barack Obama distinguished himself with his dignity, eloquence and competence.

Europe, too, faces political, demographic and racial turbulence. Far-right extremist candidates for office are garnering increasing support in France, the Netherlands and elsewhere. Xenophobia is rampant.

The Middle East is in ferment. Kingdoms, sheikhdoms and despots feel threatened and are trembling. Israel's intransigence must be dealt with firmly. The infernos of civil wars in Yemen and Syria must somehow be brought to an end. An answer to the unmitigated cruelty of IS requires to be found.

The political set-up in India has been vastly changed with the election of Narendra Modi and his ties to the RSS and other fanatic Hindu entities. That is having major repercussions in Pakistan and poses enormous challenges to our security.




While turbulence on a global scale has been touched upon here, we also need to consider turbulence faced by individuals.

To take an example from my own experience, I had a first-hand exposure to the phenomenon when, in 1979, as a civilian officer in the National Defence College, Rawalpindi, I went with our course to a naval exercise in the Arabian Sea. Out of around 80 senior officers, I volunteered to be moved solo on a steel cable from one warship to another, both in full motion over the raging waters. My leap of faith, considering that I cannot swim, was not based on any occult or religious grounds, but on my confidence on the professional expertise of the Pakistan Navy. Modern navies are complex, advanced and specialised entities. Their advancement, in turn, is the outcome of a vast array of modern scientific achievements in a large number of diverse fields, such as thermodynamics, hydraulics, gravity, velocity, mechanics, etc. My study of Finite Mathematical Structures as a student at the London School of Economics (1958-1961) created a further background. Most modern computational theory owes its origins to those pioneering studies then emerging.

In further considering turbulence in the individual, we see growing psychological distress all around us. Such distress is a cause for national concern. The impact of terrorism, the gory scenes repeatedly shown on television and the widespread anxieties and depression in the populace are serious matters. To be fair, I find Pakistani TV dramas to be really admirable. They have, on the whole, a salutary effect on viewers.

Individual distress adversely affects the national psyche. Everyone goes through traumas and difficulties but the scale on which they are now occurring is alarming. Fortunately for me, my period of psychological turbulence was overcome by help and support and especially by marital bliss and understanding.

Where does all the turmoil in the world leave us now? Bigotry fanaticism and hatreds must not be allowed to overwhelm and jettison mankind's spectacular achievements over the centuries and the wisdom of leading thinkers. Grand achievements in philosophical, artistic and musical realms must be treasured and cherished.

Plato's dialogues give sustenance to humanity at large because they lay the foundations for the basic fundaments of reason and rationality. By not taking anything for granted and by constant critical questioning, we open our minds to truth, beauty and reason. Ancient Greek thought is the precious heritage of all mankind and not just of the West in particular. This is stated by Martin Heidegger in his book Early Greek Thinking. Heidegger maintains that the term "Greek" in its special meaning does not refer to a particular ethnicity but to rational authenticity wherever it may appear in the world.

For me, an equal source of the utmost inspiration for humanity is Beethoven's music. As just one example of it, the persistence and agitation prevalent in his Grosse Fugue and the Kreutzer sonata is offset by the peace and sublime nature of the Septet in E-flat.

With the world in an intense flux, humanity can find solace in Plato's wisdom and in Beethoven's music. Would it be too far-fetched to aspire to this greatness being inculcated in Pakistan as well?

Published in The Express Tribune, February 25th, 2017.

Like Opinion & Editorial on Facebook, follow @ETOpEd on Twitter to receive all updates on all our daily pieces.
COMMENTS (1)
Comments are moderated and generally will be posted if they are on-topic and not abusive.
For more information, please see our Comments FAQ