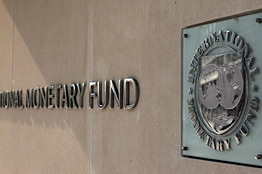 ---
KARACHI: Investors were cautious and the markets ended flat because of the impending IMF board meeting where Pakistan's economic performance would be reviewed.

Trade was dull and the Karachi Stock Exchange's benchmark 100-share index dropped 7.81 points to end at 10,271.71. Their turnover was 64 million shares, down from 83.4 million the previous day. Volumes were recorded at almost 4 month low to stand at 64mn shares, said JS Global Capital analyst, Ahmed Rauf. The IMF board was supposed to meet in Washington on Friday to discuss Pakistan's performance and decide whether they would approve the fifth tranche of about $1.15 billion, of the International Monetary Fund (IMF) emergency loan.

Pakistan has requested that their budget deficit for the third quarter be waived. They have also asked that the government not borrow any money from the State Bank of Pakistan. Pakistan agreed to an IMF emergency loan of $7.6 billion in November 2008 to avert a balance of payments crisis and shore up reserves. The IMF increased the loan to $11.3 billion in July.

"Investors are wary of potentially stringent conditions being set up for coming reviews given the recent missed targets set by the IMF," said Asad Iqbal, chief investment officer at Faysal Asset Management Ltd. The tranche has been due since the end of March but has been delayed by disagreements over the introduction of a Value Added Tax (VAT) and the raising of power tariffs. One of the conditions of the original loan was that Pakistan would change their tax system.

Moody's hinted that they might improve Pakistan's rating because of domestic stability and reduced government debt and there were rumours that foreign investors were buying Oil and Gas Development Company (OGDC) shares. "The trading session opened on a positive zone today as buying spree was witnessed in PTC and continued throughout the first session. DGKC announced today their power project of 10.4 megawatts will come online soon and it would reduce their cost by Rs400 million, but this news had no positive impact on the share price," said Rauf.

"Participation had remained lacklustre clocking in at 62.4 million shares. Although positive price action was witnessed in the previous session their fading participation raised questions," said BMA Capital analyst Nurali Barkatali. Despite this Barkatali remains cautiously positive and expects the index to face short term moving average resistance defined by 10 and 30 day moving averages at 10,348 and 10,374 respectively. Banking sectors witnessed significant volumes.

Exchange value stood at Rs2.51 billion, a slight increase from yesterdays Rs2.48 billion but still a 29 percent decrease from Wednesday's disappointing Rs3.57 billion. During the day's trade 414 stocks were active, 148 stocks closed higher, 247 declined and 19 remained the same. "The index opened on a positive note and remained rangebound in the initial hours of trading, however after touching its days low, took to a sharp uptrend to close in the green. Volume declined by 40.21 per cent and stood at 83.39 million. The index managed to register a higher high and a higher low," said KASB Securities analyst, Aiyaz M Hassan.

Bank of Punjab was the volume leader today with 7.48 million shares. Its price went up by Rs1.00 to end at Rs16.11. US authorities on Thursday formally handed over Hamesh Khan, the prime accused in the Bank of Punjab (BoP) fraud case, to Pakistan. Pakistan Telecommunication Company (P.T.C.L.A) was the second volume leader with 4.61 million shares. Its price went down by Rs0.05 to end at Rs21.14. Oil and Gas Development Authority was the third volume leader with 4.14 million shares. Its price went up by Rs1.83 to end at Rs138.03.

Published in the Express Tribune, May 15th, 2010.
COMMENTS
Comments are moderated and generally will be posted if they are on-topic and not abusive.
For more information, please see our Comments FAQ