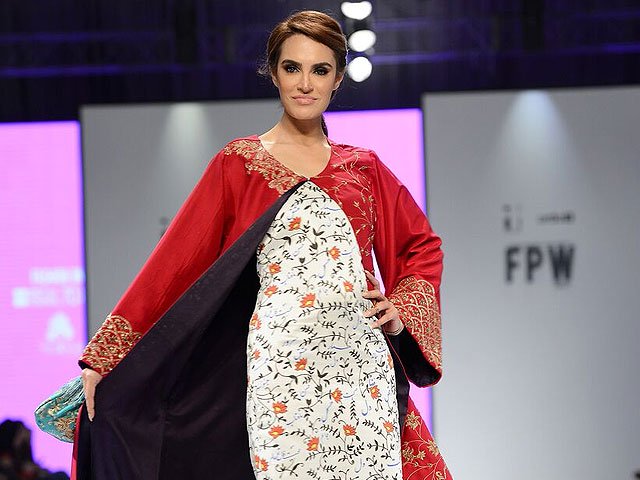 ---
KARACHI: The line-up for Day Two of Fashion Pakistan Week (FPW) 2017 included collections by acclaimed designers such as Nida Azwer, Amir Adnan, Deepak Perwani, and a special showcase by Munib Nawaz, Zuria Dor, The Pink Tree Company, Jeem, Sonya Batla and Gulabo.

The evening ended with a special segment featuring the top designers of Pakistan, including Bunto Kazmi, Shamaeel Ansari, HSY, Umar Sayeed, Sana Safinaz, Nomi Ansari, Amir Adnan, Nilofer Shahid and Maheen Khan.

Nida Azwer




The collection is deeply entrenched in a serious endeavor to revive and rejuvenate traditional craft, specifically embroideries in Pakistan. Drawing inspiration from interior Sindh's age-old embroideries, the collection reinvents stitches such as the Hurmich, Seesha Tanka, Moti Tanka and Heera Tanka on fine quality organza and silk. The collection included ghararas, saris, dupattas and ajkans on neutral tones including off white, beige and grey.

Munib Nawaz




The idea behind Munib Nawaz's FPW 2017 collection was to infuse science into design. Key to the collection is the fabrications and processes: handmade slub cotton tailored into a bomber jacket or over dyed soft denim shirting.

Zuria Dor  




Zuria Dor focuses on innovation, international outreach, technology-backed commerce and ethics.  The FPW 2017 collection, 'tropical romanticism', is inspired by tranquil colours found in nature; calming visual effects start with subtle, elusive tones which gradually get darker.

The Pink Tree Company




The Pink Tree Company's Autumn/Winter 2017 is made up of emerald greens, peacock blues and sun kissed orange silks and hand- woven organza. Zardozi has been used to embellish the garments. Jahan

is a glimpse of Pakistan. It is the story of our heritage and culture to the world outside.

Jeem  




Hamza Bokhari, the designer behind Jeem has become known for using traditional artisan techniques complemented by unique silhouettes, colours and detailing. Songs of my Nation caters to women who do not follow fashion but embody it, appreciate art and have an eye for skillfully crafted pieces and modern tailoring.

Sonya Battla   




Battla's Autumn/Winter 2017 collection was inspired by the Sufi shrines of Pakistan and the world of Sufism. Karachi inspired the colour palette, which includes beautiful blue tonal dyes and washes.

Gulabo    




Gulabo's signature graphic and technicolor prints, inspired by traditional Pakistani folk truck art, create their instantly recognisable design identity. The FPW 2017 collection was inspired by the hippie movement of the sixties and seventies.

Amir Adnan




Aesthetics of Everyday points to the concept that some activities and objects transcend cultural differences, individuality and gender stereotypes to create basic utility. It shows a new frontier and draws appeal from the mundane by blurring the lines of divide.

Amato   




The Amato Couture Spring/Summer collection for FPW'17 showcases an array of romantic gowns in pastel hues. Delicate French lace and soft tulle with intricate flower embroidery and applique will cascaded down the runway. Romance, opulence and glamour were the key elements of this collection.

Deepak Perwani 




The collection takes its inspiration from the purity of the morning sky and the clear waters of the sea. Minimal embellishment, lace, crystals and shades of blue waters define a certain sense of in Pure.

Inaaya




Nadia Hussain walked the ramp for Inaaya, baring a sign that read "She is her strength." She steps into the divine geometry, into the inner equilibrium that will sustain her outside the sanctum till she next returns.

Only she can experience it. It is Baatin.

She is you. You are me. We are Inaaya.

Have something to add in the story? Share it in the comments below.