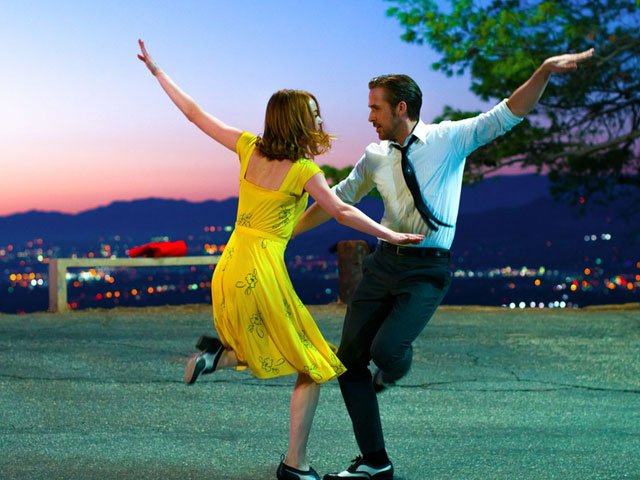 ---
Ryan Gosling can easily pull off anything! This is not us talking but the designer who dressed the Golden Globe Award winner in the romantic musical La La Land.
In an exclusive interview with Entertainment Tonight, Mary Zophres opened up about dressing Ryan and Emma Stone for the Oscar's most nominated movie this year.
"I worked with both [Ryan and Emma] before, that was a huge advantage for me because I know their bodies and what kind of looks good on them," she explained.
"We did put one shirt on him that had a little bit too much of a plaid, and that was eliminated, but he wears clothes so well," she said.
'La La Land' leads Oscar nominations
"We made everything that he wore, and so once we found the general silhouette [for his character], we just kind of kept his wardrobe [the same] -- he repeated a lot," she continued.
She went on to say, "But to me, his character is a guy who bought a nice sport coat and took good care of it, and he wore it on more than one occasion. As opposed to having like a gazillion different changes, he just repeated classically good looking clothes."
Mary also talked about the malfunctions the actors faced in the sets. "[One of] Emma's shoes broke in that scene with the white dress," she said.
La La Land wins big at Golden Globes
"She had a dance shoe on and it broke. We only had a single on it, so we ended up using another dance shoe that we had in her closet. The art department helped spray it silver to match the color, because we had already shot part of the other sequence, like with her getting made up, and it has to be continuous. So, that was an 'Oh my God' moment." she laughed.
Ironically, that ensemble turned out to be Zophres' favourite look on Stone.
"I do love the yellow dress, but I think that my very favorite dress, which has been a surprise for everybody, is the white dress that Emma wears in the Paris backdrop," the Ft. Lauderdale, Florida, native gushed. "It's everything I wanted it be."
"It sort of floats on air, and it makes me cry when I see that dress on film," she added. "Everyone's surprised by that answer because the movie is so known for its color, and that dress is white, but I love that dress."
Enchanting magical realism exists in La La Land
"I'm lucky that the two films that I [worked on] this year both got nominated," she continued.
"That's insane! I don't want to jinx it, I'm just so grateful to be here, and I'm so happy. It's a real honor to be nominated by your peers, I think. It's the most meaningful because it's by the people who do what you do. You can't ask for more than that!" she concluded.
Have something to add in the story? Share it in the comments below. 
COMMENTS
Comments are moderated and generally will be posted if they are on-topic and not abusive.
For more information, please see our Comments FAQ