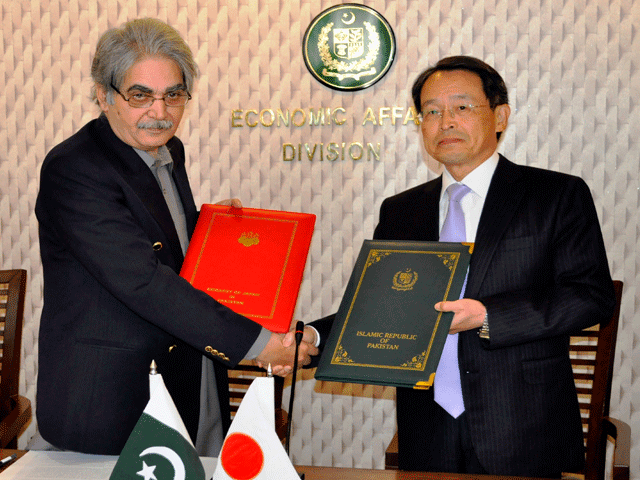 ---
In a bid to help Pakistan take foolproof security measures against a fresh wave of terrorism, Japan has agreed to extend a grant aid of Rs453 million ($4.43 million) to the government of Pakistan under its "Economic and Social Development Programme".

According to a statement issued by the Japanese Embassy in a press release on Friday, the grant will be utilised to install face recognition systems – a computer application capable of identifying or verifying an individual from a digital image of human face images captured by CCTVs – at major international airports in Pakistan.

A grant-aid agreement in this matter was signed between Japanese Ambassador Takashi Kurai and Economic Affairs Division (EAD) Secretary Tariq Mahmood Pasha at the EAD on Friday on behalf of their respective governments.

Terrorism will be responded to with full might, says Nisar

The grant assistant has been designed to promote economic and social developments in the field of security improvement and counterterrorism by providing the face recognition systems at Pakistani airports, said the press release.

It added that the system, equipped with advanced Japanese technology, aims to protect local and international travellers from any unexpected situation by enhancing airport security.

Ambassador Kurai also expressed his deepest condolence to the victims of recent terror attacks in the country, particularly in Lahore and Peshawar.

Renewing Japan's commitment to continue supporting Pakistan in its fight against terrorism, Kurai said any "terror attack cannot be justified for any reasons."

"This grant aid reflects our strong commitment to supporting the effort of Pakistan against terrorism, said the ambassador.

He also emphasised that improving the security situation in Pakistan was highly important for successful socioeconomic development in the country.

Japan has a history of assisting Pakistan on the issues that matter the most.

In 2016, the Government of Japan had also financed the installation of a face recognition systems at the Jinnah International Airport, Karachi which is being currently being implemented.
COMMENTS (2)
Comments are moderated and generally will be posted if they are on-topic and not abusive.
For more information, please see our Comments FAQ