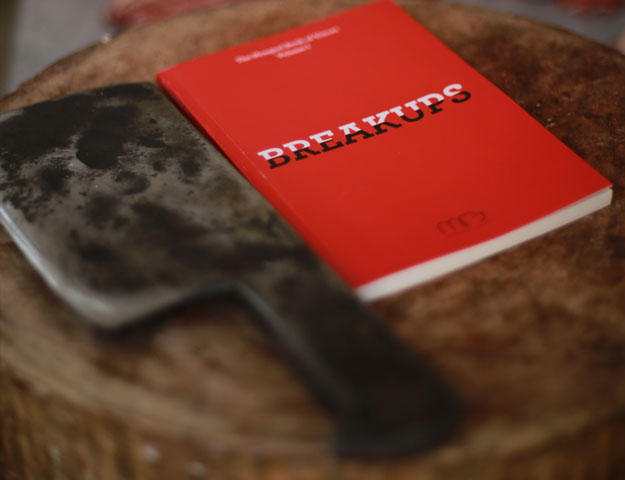 ---
KARACHI: Mongrel Books is an independent press co-founded in Karachi, in 2016, by award-winning writer Shandana Minhas (whose debut novel Tunnel Vision was nominated for the Commonwealth Writer's Prize) and journalist, playwright Imran Yusuf. With Breakups, the first Mongrel Book of Voices publication, already available at bookstores, Minhas spoke with The Express Tribune about their journey and the need for platforms to support original voices in Pakistan.

Minhas said it all started with a manuscript that wasn't getting published elsewhere. "We thought it was an important and well-told Pakistani story, so we worked on the text with the writer with a view towards publication." And although that project ultimately didn't work out, "our longstanding desire to see a different publishing landscape in Pakistan had already been awakened."

A fine balance of truth

That led to the birth of Mongrel Books and once the website was up, there was no turning back. "It's all the realisation of an ambition to publish original fiction and non-fiction in Pakistan. There's simply more control and freedom when you own and manage the means of production," she said.

But, of course, publishing is a tough business, especially in Pakistan. Subsequently, Minhas and Yusuf also faced challenges while bringing Mongrel to life. "As a new indie press, we are facing the same issues as any small business starting out: affordable quality childcare for the working mother, financing, human resources, acquiring new skills," said Minhas, adding limited paper options and making international payments from Pakistan, to the list.




The first publication Breakups saw submissions from several countries, from India, Egypt and New Zealand to Saudi Arabia, and the US among others. When asked why they went with the breakup theme, the Daddy's Boy author said they foresee Mongrel Book of Voices as an annual anthology with a different theme every year. "For Volume I, Breakups just seemed to lend itself as an intriguing and inviting first option. We considered 'Love', 'Laughter', even 'Horror'. Breakups encapsulates all these and is the kind of subject any writer - from the melancholic to the macabre - can really get stuck into."

Such a theme brought in a ton of different interpretations, from a subtle, sensual story about slicing into a pavlova by Shazaf Haider to a list of 101 synonyms for a single woman by an Iranian poet. "We were astounded by the imaginative interpretations of the theme," said Minhas, adding that they want to be able to bring compelling stories and original voices to readers through Mongrel Books.

'Stories pass through you like an oil slick'

Minhas explained that the response to Breakups has been positive, and they will publish the second volume of The Mongrel Book of Voices in January 2018. Besides that, Mongrel Books will publish three more books this year, two novels, one of them being sci-fi writer Sidra F Sheikh's The Light Blue Jumper and a non-fiction title, The Other Pakistanis by journalist Kamal Siddiqi.

With Pakistan's literary landscape in desperate need of new and original voices, Mongrel Books seems to be a platform tailor-made for them. "While it's possible for a society to have enough lawyers, bankers, digital strategists, political aides and artisanal bakers, one can never have enough writers and publishers," said Minhas, when asked whether there's need for more such platforms. "There's definitely a need for upcoming voices to find guidance, encouragement and support. This can only happen by people making it happen. No substantial progress and innovation ever came from committees, WhatsApp groups or panel discussions."

As a writer, Minhas advices young writers to understand that their craft requires practice, dedication and hard work. "It also needs nourishment. Reading and living are prerequisites for the actual writing."

Have something to add to the story? Share it in the comments below. 
COMMENTS
Comments are moderated and generally will be posted if they are on-topic and not abusive.
For more information, please see our Comments FAQ