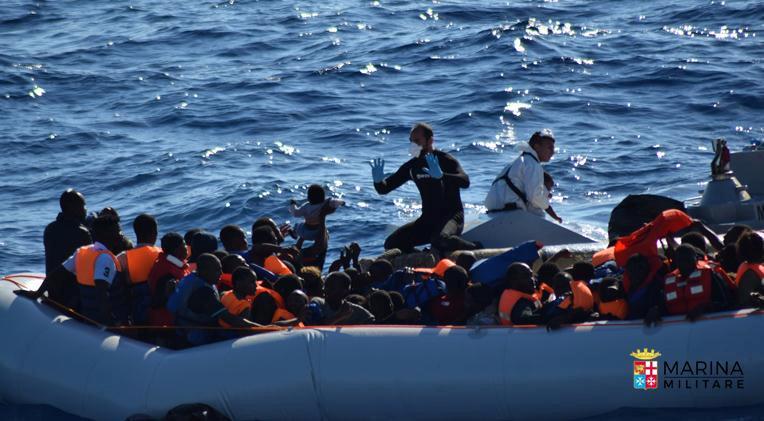 ---
ROME: Almost 2,500 boat migrants were rescued in the past three days, the Italian Coast Guard said on Thursday, as this year's arrivals already far outpace the record-setting 2016.

Some 1,100 were plucked from nine flimsy vessels off the coast of Libya on Thursday, the Coast Guard said, after a total of 1,360 were picked up the two preceding days.

Since the beginning of the year, there have been more than 10,700 sea arrivals, the Interior Ministry said on Thursday, a third higher than the same period last year.

Hungarian camerawoman gets probation for tripping migrants

"The situation is more dramatic than ever," said Mathilde Auvillain, a spokesperson on board the Aquarius, a rescue ship run by SOS Mediterranee and Doctors without Borders (MSF).

Last year a record 181,000 boat migrants reached Italy and more than 5,000 died in the Mediterranean. Since 2015, more than a million-and-a-half migrants have flooded into Europe.

To stop the flow, Italy and the European Union earlier this month pledged to fund migrant camps in Libya run by the UN-backed government, and to supply equipment and training for the fight against people smugglers.

But humanitarian groups including SOS Mediterranee and MSF have criticised the deal, saying Libya is not safe.

UN worried about migrants dying of cold, "dire" situation in Greece

"In Libya, the police tells you they will deport you back to your country, but they don't," said Collins, 27, from Benin City, Nigeria, according to comments made to the Aquarius crew on Wednesday and Thursday. "They just sell you to someone else. You cannot trust anybody in Libya, you never know if they are police or gangsters," he said.

Youssef from Gambia said that since the signing of the EU-Libya migrants have heard that the sea journey may soon be shut down. "I heard that they will close this route in one month, I'm very worried about my people, the blacks, who are still there in Libya. The situation is terrible," he said.