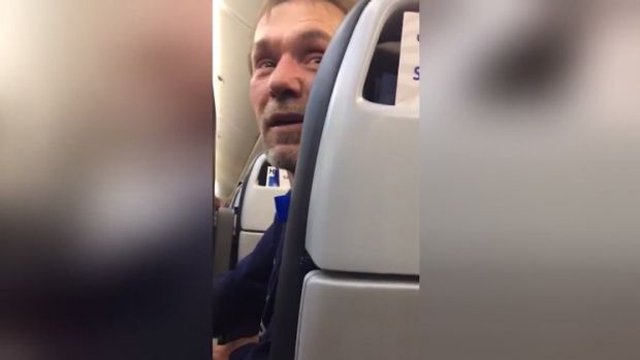 ---
A man on board a United Airlines flight along with his female companion was escorted off the plane after he made racist remarks towards a Pakistani couple.

The incident took place on Houston-bound United Airlines flight 1188. The man reportedly asked the Pakistani-born couple who were dressed in "traditional cultural attire" if they had a bomb in their bag.

British-Muslim school teacher refused permission to fly to US

Megan Lyn, another passenger on the plane, made a video of the aftermath of the incident. Lyn can be heard saying, "Racists aren't welcome in America! This is not Trump's America!" before singing "Goodbye racists!" as the man and his female companion are escorted off the plane. Other people can be heard cheering in the background.

In her now viral post, Lyn said that the man who has not been identified told "passengers of colour to go back to where they came from".

Lyn, speaking to Texas based broadcaster KHOU said she and her boyfriend approached flight attendants after the man made the offensive comments. Other passengers also complained that they were uncomfortable by the remarks.

"The person ahead us turned around and asked where my boyfriend was from; my boyfriend said it's none of your business," she said. "At that point he said all illegals and all foreigners and need to leave the country." She said her boyfriend is of Indian descent.

United Airlines pilot removed after intercom rant

Speaking to The Washington Post, Jonathan Guerin, a United Airlines spokesperson confirmed that the man was removed due to his "inappropriate comments"

"Most customers appreciate a place where they feel safe and where they're not going to be attacked and we want to provide that," he added.

The viral video can be seen below:








COMMENTS (11)
Comments are moderated and generally will be posted if they are on-topic and not abusive.
For more information, please see our Comments FAQ