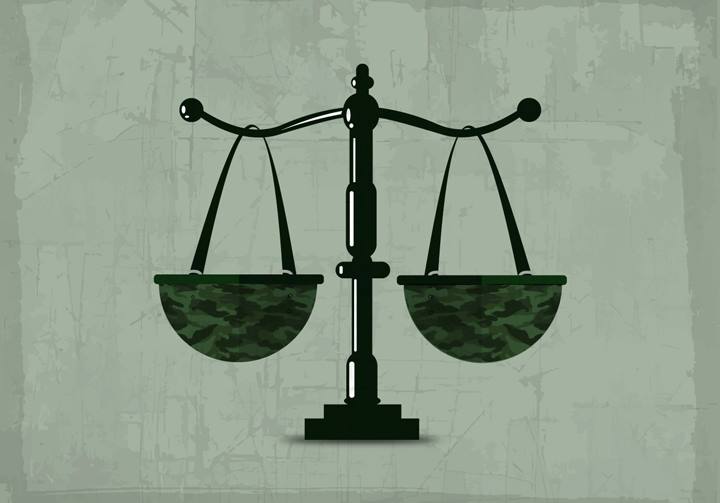 ---
ISLAMABAD: The government seems to be struggling to bring all parties on the same page on the issue of re-establishing military courts.

After Pakistan Peoples Party (PPP) other political parties including Awami National Party and, to some extent, even the Muttahida Quami Movement have started voicing reservations over the new draft of 25th constitutional amendment to re-establish military courts.

The PPP, the second largest party in parliament, boycotted the sixth meeting of heads of parliamentary parties convened by National Assembly Speaker Ayaz Saddiq.

It was for the first time that parliamentary heads in the Senate were invited to the meeting.

PPP's Member National Assembly Naveed Qamar and Senator Taj Haider, heads of their parliamentary party in the two houses, did not attend the meeting.

PPP decides not to oppose revival of military courts

Awami National Party's Ilyas Bilor also raised similar objections on the draft bill prepared by the government. According to these parties, in the present draft, scope of military courts has been increased from religious and sectarian extremism by omitting these specific terms used in the 21st amendment under which special military courts were set up in 2015.

In an effort to defuse the tension and speed up the process of re-establishing military courts, the government called PPP's top guns on late Wednesday.

In his telephone call to leader of the opposition, NA Speaker Ayaz Sadiq requested Khursheed Shah to end the boycott and attend the meeting.

In response to this, Khursheed stated that a decision will be taken after consulting other party leaders.

Meanwhile, Finance Minister Ishaq Dar called party co-chairman to request him to end the boycott.

Set up under a sunset clause for two years that expired on January 7, military courts set up through 21st amendment clearly mentioned that they would hold trial of terrorist groups and terrorists fighting while using the name of religion or a sect.

The PPP claims that by omitting the specific terms of religion and sect from the new draft, the government intends to make it more generalised which they fear could be used against political opponents.

"The exercise of military courts remained useless since the government did not move an inch to reform the civilian court system. This [new proposed amendment] tends to be used against political rivals," a PPP lawmakers said requesting not to be named.

Interestingly, PPP top leadership has asked its lawmakers to refrain from making public statements on the issue for now.

Similar apprehensions were raised by Ghulam Ahmed Bilor during the huddle, according to one of participants.

He said since the Senate parliamentary leaders were invited to the meeting for the first time, most of the time was spent on initial briefing to them without any substantial process on the real matter.

The government omitted religion and sect related terms in the draft bill for 25th amendment to assuage its ally Fazlur Rehman, but this has enraged other parties.

Jamiat Ulema-e-Islam-Fazl has threatened to withdraw its support for the bill, if the government makes any changes.

However, Speaker Ayaz Sadiq in his brief media talk claimed that everyone in the meeting agreed that 'we have to move forward'.

He said PPP did not participate due to its reservations on the current draft and added that Maulana Fazlur Rehman would contact PPP and invite them to another huddle which he plans for Friday.

According to him, some political parties want a timeline and clear objectives to be achieved so that military courts do not become a permanent feature.

Rs5m prize: Khattak backs longer tenure for military courts

He said there is a proposal under consideration to form a parliamentary committee which may meet once in a month or two to monitor the set targets.

Meanwhile, PPP has conveyed to the government that it plans to hold an All Parties Conference on the issue like the one convened after December 2014 terrorist attack at the Army Public School that served as a catalyst to build consensus for setting up military courts.

One of the parliamentary leaders said that if PPP does not come in Friday's meeting, the exercise will be useless.

A ruling Pakistan Muslim League-Nawaz leader claimed that dissenting parties were doing politics on the issue and want to get concessions.

"Zardari was supposed to return after decision of Panama Leaks case. His unexpected return is not without reason," PML-N leader remarked.

Published in The Express Tribune, February 24th, 2017.
COMMENTS
Comments are moderated and generally will be posted if they are on-topic and not abusive.
For more information, please see our Comments FAQ