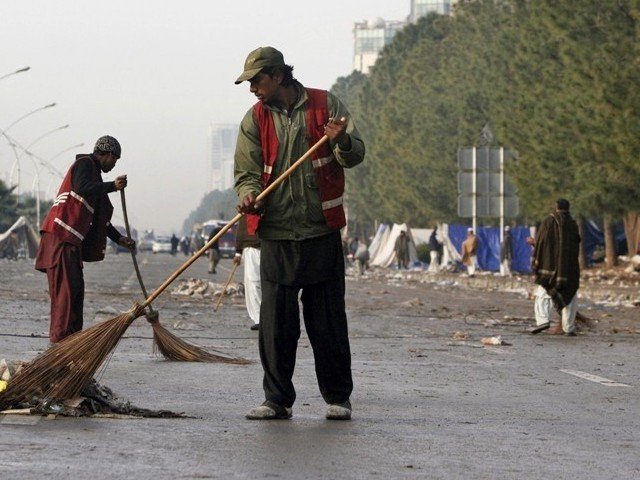 ---
ABBOTTABAD: Around 300 sanitation and water supply workers of the Abbottabad Tehsil Municipal Administration (TMA) have announced that they would suspend their routine work and go on a strike to protest against the newly formed Water and Sewerage Authority (Wasa) from next week.

A decision in this respect came on Thursday after the workers ended their negotiations with the Tehsil Nazim Ishaq Sulemani midway.

The sanitation workers later staged a protest outside the press club and announced their plans of a complete strike, suspending routine work of collecting garbage from across the city, from Monday for an indefinite period.

The workers had earlier staged several protests to express their resentment against the provincial government's decision of handing over water and sanitation works to the newly established Abbottabad Wasa.

Nadeem, one of the leaders of the sanitation workers, said that they had warned the administration several times that Wasa's track record was not encouraging in other cities and it would turn out to be another burden both on the residents of Abbottabad and the provincial exchequer, however, the provincial government had gone ahead with its plans and formed Wasa.

He reiterated his fear that services of water and sanitation would be taken over by this new company within a few months. As a result, over 300 sanitation and water supply workers employed by the TMA could lose their jobs since the Wasa authorities would exercise a pick-and-choose policy.

Imran, another leader of sanitation workers, lamented that the government had allocated Rs1 billion for Wasa, in addition to spending around Rs50 million to purchase vehicles. However, if the government would have spent only Rs5 million on the Abbottabad TMA, the city would get a facelift.

He claimed that despite the growing population of the city, the number of sanitation and water supply workers had not increased. Ironically, it was this shortage of manpower which created problems, but none which could not have been managed had the government spared funds for TMA.

Published in The Express Tribune, February 24th, 2017.
COMMENTS
Comments are moderated and generally will be posted if they are on-topic and not abusive.
For more information, please see our Comments FAQ