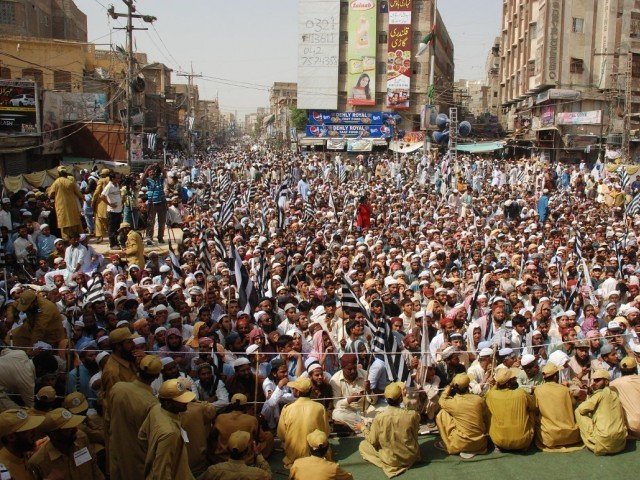 ---
SUKKUR: Jamiat Ulema-e-Islam - Fazl (JUI-F) held a rally and public gathering in Sukkur on Thursday to protest terrorism and corruption. The party had announced its intention to stage a 'Corruption Mitao, Sindh Bachao [Erase corruption, save Sindh]' rally but it later turned into a public gathering.

JUI-F Sindh secretary-general Allama Rashid Mehmood Soomro condemned the recent wave of terrorism in the country, especially the Sehwan Sharif bomb blast, and said, "I am also a victim of terrorism as my father, Dr Khalid Mehmood Soomro, was martyred in a terrorist attack". He condemned terrorist elements that are targeting public places, mosques, dargahs and schools without any discrimination.

"Terrorists are not Muslims and we, the JUI-F, will protect the mosques and dargahs till the last drop of our blood is spilled," he said.

World condemns Sehwan attack

Dispelling the perception regarding the training of terrorists at religious seminaries, he said this is not true and that they have been 'the worst victims of terrorism'. "Whether the terrorists are with or without beards, in shalwar kameez or modern clothes, they are terrorists and not Muslims," he said. He claimed the right to protest was their democratic right and no one could stop them from exercising their rights. Speaking about the rampant corruption in Sindh, Soomro accused the ruling party of turning Sindh into a living Mohen Jo Daro. He alleged that the Rs90 billion meant for the special development package of Larkana has been pocketed.

"All the government institutions are in shambles and nobody is ready to accept the responsibility," he lamented, adding that the poor long for a single meal, while the elite are leading luxurious lives. "Today the condition of all the cities in Sindh is depicting the look of ruins due to rampant corruption," added Soomro.

He also vowed that in the upcoming general elections, JUI-F will bag a large number of seats because it is the only alternative to the Pakistan Peoples Party, which had done nothing except for corrupting institutions.

Lahore suicide attack: Lawyers in upper Sindh boycott courts in protest

Others who spoke on the occasion are Maulana Abdul Qayoom Halejvi, Maulana Saud Afzal, Maulana Mohammad Saleh Indhar and others.

Earlier, a large number of people on motorcycles and other vehicles from Pano Akil, Salehpat, New Sukkur and Sukkur city gathered at city bypass, Sukkur, after which the rally took to the streets and reached at Minara Road, where it turned into a public gathering. Residents of Sukkur, particularly students, were plagued by traffic jams because of the rally.
COMMENTS
Comments are moderated and generally will be posted if they are on-topic and not abusive.
For more information, please see our Comments FAQ