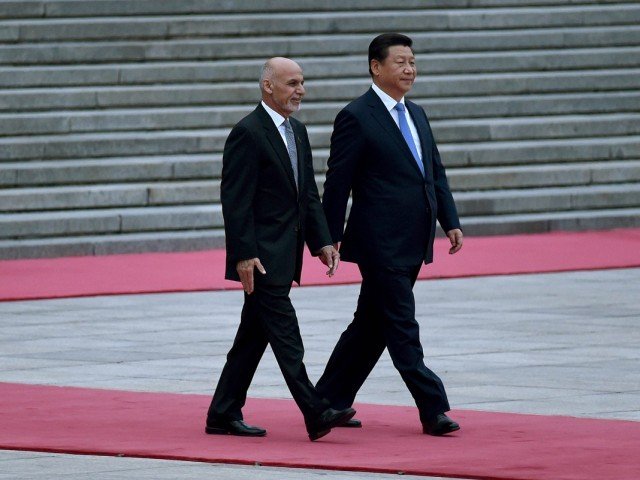 ---
BEIJING: China's defence ministry on Thursday dismissed reports Chinese military vehicles were patrolling inside Afghanistan, saying the two countries were only carrying out counter-terrorism operations along their common border.

This month, the Central Asia-Caucasus Analyst think-tank said in a report on its website that Chinese troops were on Afghan soil conducting joint patrols with their Afghan counterparts.

That followed a similar report in an Indian media outlet in November. Defence ministry spokesman Ren Guoqiang said Chinese public security departments had counter-terrorism cooperation along the China-Afghanistan border.

Russia, China favour taking Taliban off UN sanctions list

"This is law enforcement bodies from China and Afghanistan, in accordance with a bilateral agreement on strengthening border law enforcement, conducting cooperation along the border so as to jointly carry out counter-terrorism and to fight against cross-border crime," Ren told a monthly news briefing.

"Reports in foreign media of Chinese military vehicles patrolling inside Afghanistan do not accord with the facts," he added, largely repeating a similar ministry statement from November.

China and Afghanistan share a 76-km (50 mile) stretch of border in a remote, mountainous corner of Central Asia.

China has long been concerned that instability in Afghanistan could spill over into the violence-prone Xinjiang region in China's far west, home to the Muslim Uighur people, where hundreds of people have died in recent years in unrest blamed by China on militants.

China has also worked with Pakistan and the United States to broker peace talks to end Afghanistan's Taliban insurgency that has raged there for 15 years.
COMMENTS
Comments are moderated and generally will be posted if they are on-topic and not abusive.
For more information, please see our Comments FAQ