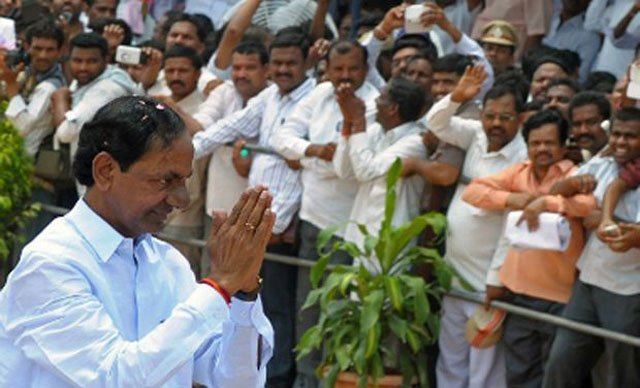 ---
NEW DELHI: The head of India's newest state is facing condemnation after spending $750,000 in public money on gold temple offerings to thank the gods for realising his long-held ambition.

Chief Minister K Chandrasekhar Rao campaigned for decades for the creation of Telangana state in the south of India and had promised to donate gold to a local temple if he succeeded.

On Wednesday, he flew to a popular Hindu temple in a chartered plane and presented a lotus-shaped necklace weighing nearly 15 kilos (33 pounds) and a five-kilo collar as priests chanted vedic hymns, according to media reports.

Speaking on condition of anonymity, an official in the Rao's office confirmed the donation and said it was "from the government of Telangana and its people".

Social media users laid into Rao, who has been criticised in the past over his lavish use of public funds.

Modi calls for world-class city in southern India

"Rao is a great CM. Never hesitates to put his hand in the State treasury for meeting personal needs. The dictionary word is theft," said one Twitter user.

"Instead of offering kg's of gold to temples and seeking miracles please do something on the ground" posted another.

Rao faced criticism last year when it emerged the state had funded a $7.3 million official residence, fitted with bullet-proof offices and bathrooms and a movie hall.

Telangana split off from neighbouring Andhra Pradesh in 2014 after a long campaign for a separate state, with its champions arguing the region had been neglected by successive state governments.

Rao now plans to raze the main government office complex in Hyderabad to construct a $52 million structure according to the rules of Vastu -- an ancient Hindu system of architecture.

Media reports said he was planning to make a further offering to the gods over the weekend -- this time a moustache of pure gold.
COMMENTS
Comments are moderated and generally will be posted if they are on-topic and not abusive.
For more information, please see our Comments FAQ