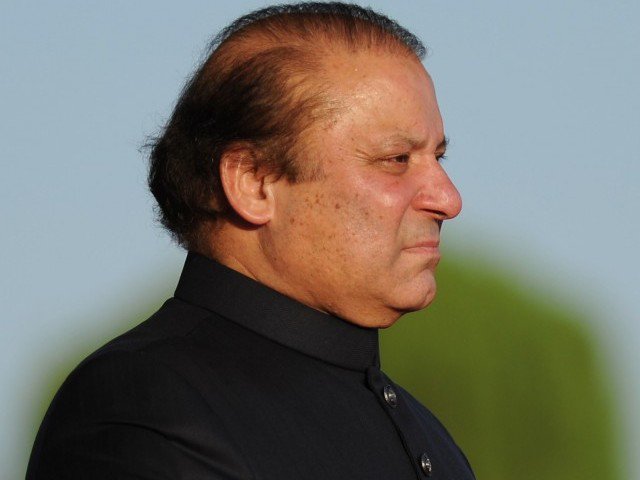 ---
I salute Prime Minister Nawaz Sharif for all the bravery he has shown in the past week. When Pakistan was being marred by daily terrorist attacks, our prime minister was at the forefront of the violence – safely hiding in the basement of his house in Raiwind.

A firm believer in the proverb that "silence speaks louder than words", he reassured a frantic nation with his silence. Nawaz Sharif has even gone the extra mile of ensuring not only his vocal silence but also his physical one.

When the nation has been threatened by war from terrorist organisations, he has taken the confrontation head on by flying to Turkey for three days. He's not the leader we want but, much like Batman, he's the leader we deserve. Not content with just fighting TTP in Pakistan, he's going to Turkey to fight the Islamic State also. If only the United Nations trusted him with the Middle East, even Germany would be Palestine by now.

Nawaz, Imran and Zardari share New Year resolutions

When people from around the country were picking up bodies from their shrines, their streets and their homes, they were at least happy in the knowledge that their leader was safe at his house enjoying a warm meal.

I am sure all the people dying of terrorism are happy to know that our economy is on the rise — nothing better than financial manipulation by Ishaq Dar and cooking up some books to placate the nation. So what if you are not safe anywhere in the country, a mythical number in a book somewhere is bigger than what it was last year.

It doesn't matter that life for the peasant in Pakistan has not changed for centuries. At least their colonisers were better looking a century ago.

Lord Mountbatten did not pretend to care about the locals but Nawaz Sharif is the real man of the people. Whereas the British built rail roads to steal local resources and transfer them to the centre, our government has never done that. Pakistan Muslim League-Nawaz (PML-N) does not build railways – they are known for building roads. Roads that move goods from all over Pakistan to the centre to grow the economy. There is nothing similar to what the British were doing then and what the PML-N is doing now.

Sure there were no hospitals for the wounded of the Sehwan blast and sure when they got to the nearest hospital, there were no beds, adequate equipment, resources or personnel but the nation must appreciate how smooth the roads were on which all injured people were transported. With their dying breath, they must be thanking the government for those roads. If only I could travel through a few underpasses then I can die a happy person.

Don't kidnap me. I'm not a liberal

Hospitals do not buy you votes. You cannot paste your picture on hospital beds. What this nation needs is roads because they vote on the basis of what they see not what they know. If they see a shiny bus, they are convinced the nation must be progressing. We are all ready to buy a one-way ticket to our deaths on that bus.

Who needs a Quaid-e-Azam speaking to millions to show them he is with them – people who do not even understand the language spoken by Jinnah but are reinvigorated by his very presence? Who needs a Mandela encouraging his supporters from prison? Who needs a Martin Lurther King marching hand in hand? Who needs an Obama, Merkel, Trudeau – leaders who speak to the nation after every calamity to ensue calm and reinforce the nation's ideals when you have the serenity of radio silence?

You do not need words when you have bombs. How many people died last week? About 200? Alright then let's bomb 200 "terrorists" and call it even. It does not matter if some of these terrorists we have known about for a while or if some of them are not even terrorists. As long as the nation sees action, they will forget about this tragedy next week.

It really is a matter of perspective anyway, who's to say what the nation should be more outraged about – a bomb at a shrine or Sheema Kermani dancing at a shrine?

Here's what Nostradamus predicted about Pakistan in 2017

I am sure we have seen the end of terrorism now that we have dropped a few bombs. From tomorrow, all our leaders will move with no protocol, they will have no need to block a mile of road each time they need to travel, they will not speak to the public behind bulletproof glass, their homes will not be guarded with our tax money, their homes will not stretch for hundreds of miles, they will not move with hundreds of people and tens of cars each time they need to move.

If all of that does not happen then know that they know the country is not safe. They are lying to you. They are all the same. The day you take their privilege away, the day you strip their protection, they will see how the rest of us live and they might want to change that – not for us but for themselves.

I salute Nawaz Sharif for his ability to stay so brave in the face of such adversity. I also salute Imran Khan for all his criticism of the TTP. I am sure the government and the opposition will no longer be in bed with terrorist organisations. After all, the real criminals here are the victims of terrorism or as Rana Sanaullah puts it, if people don't gather and protest, they won't get bombed in public places. Does he blame the people who die in bomb blasts for the attacks? Guess General Dyer is alive after all.

Remember, the Emperor has no clothes.

This article is a work of satire.