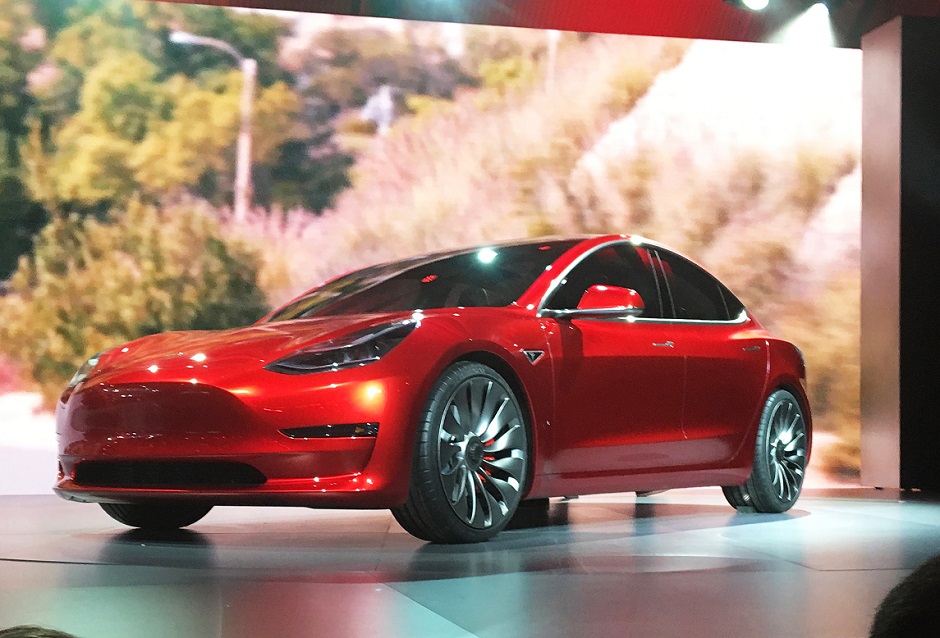 ---
Tesla said on Wednesday its mass-market Model 3 sedan was on track for volume production by September, encouraging investors who see the electric vehicle as the avenue to profitability for the young company.

But the carmaker's operations continued to burn through cash, and Chief Executive Elon Musk told analysts on a conference call that he may ask Wall Street for more.

"According to our financial plan, no capital needs to be raised for the Model 3 but we get very close to the edge," Musk told investors on a conference call. Tesla plans an additional $2 billion to $2.5 billion in capital expenses before the Model 3 launch and has $3.4 billion cash on hand.

"We're considering a number of options but I think it probably makes sense to raise capital to reduce risk," Musk said.

Musk said Chief Financial Officer Jason Wheeler, in his role for just over a year, would leave in April to work in public policy. He will be replaced by former Tesla CFO Deepak Ahuja, who was popular with investors.

Tesla Model S is now the world's quickest car

Tesla, whose shares rose as much as 3 per cent after the bell before settling up around 1.6 per cent to $277.90, beat analysts' expectations for revenue. Its adjusted loss missed the consensus target calculated by Thomson Reuters I/B/E/S, although there was an unusually large range of estimates due to confusion over accounting for the acquisition of solar installer SolarCity.

Ivan Feinseth, director of research at Tigress Financial Partners, said Tesla "delivered the results the market has been expecting" that drove the stock from a year low of $167.84 last February to a year high of $287.39 last week.

By late spring or early summer, Feinseth estimated, Tesla will likely raise more money, noting that today's highs could make it sooner rather than later.

"You have to feed the ducks while they're quacking. If they came to the market now they would be well received," he said.

Up to Wednesday's close, Tesla's stock had risen 53.9 per cent in the last 12 months.

Many investors and suppliers have predicted Model 3 volume production would be delayed until 2018, but Tesla said it would produce over 5,000 Model 3s per week "at some point in the fourth quarter", and 10,000 vehicles per week "at some point in 2018".

Musk reiterated that Tesla still planned to deliver 500,000 cars in 2018 and 1 million vehicles by 2020.

Tesla did not give its usual full-year delivery estimate, but said it expected to deliver 47,000 to 50,000 Model S and Model X vehicles combined in the first half of 2017.

The company did not give a Model 3 target for this year and declined to update a previous disclosure made last April that 373,000 advance reservations had been taken for the car.

Tesla taps Apple engineer for Autopilot software

"We're still in great shape," said Wheeler, when asked about early demand for the car.

The public might not see the final version of the Model 3 until as late as July, when limited production begins, Musk said.

Capital expenditures doubled in the fourth quarter to $521.6 million, as Tesla invests in its Fremont, California factory and its Gigafactory battery plant in Nevada.

Cash rose by $309 million to $3.39 billion, which includes funds raised from a share sale last year.

SolarCity installed more than 20 per cent less solar in the quarter, as it focuses on profitability and cash over growth. Solar generation deployed fell to 201 MW in the fourth quarter from 253 MW a year earlier.

Tesla's net loss attributable to common shareholders narrowed to $121.3 million, or 78 cents per share, for the fourth quarter ended Dec. 31 from $320.4 million, or $2.44 per share, a year earlier.

The adjusted loss of 69 cents per share compared with the analyst consensus of a 43-cent loss, according to Thomson Reuters I/B/E/S.

Revenue rose 88 per cent to $2.28 billion, topping Wall Street's target of $2.18 billion.