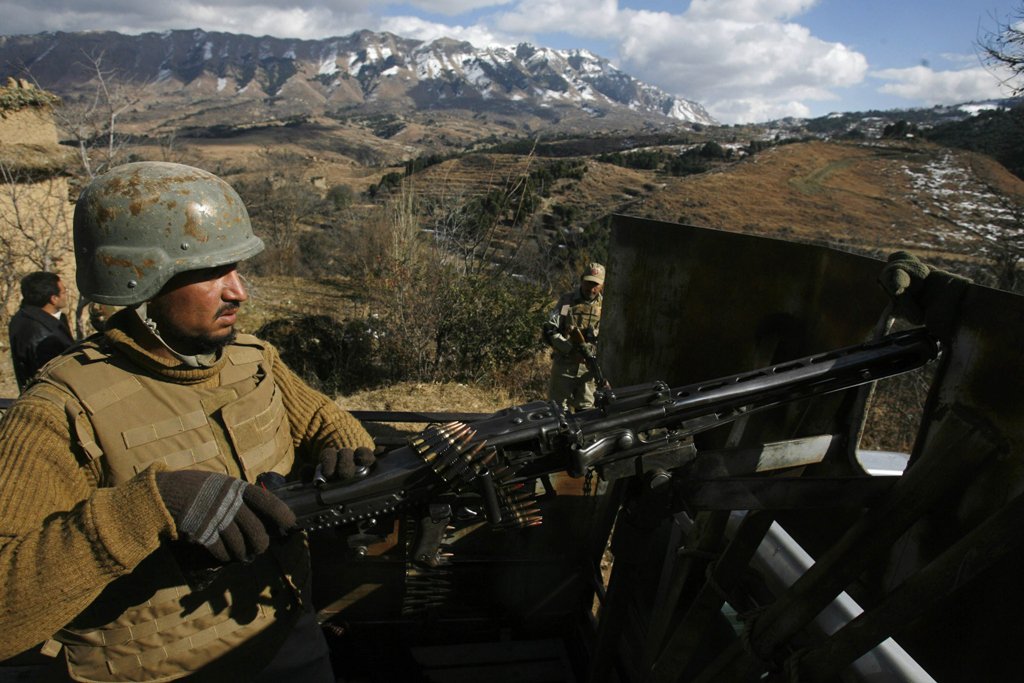 ---
In response to the continuing terror wave, Pakistan Army has launched 'Operation Radd-ul-Fasaad' across the country.


Pak Army launches 'Op Radd-ul-Fasaad' (رَدُّالفَسَاد) across the country. Rangers ops in Pb, cont ongoing ops elsewhere. Pursuance of NAP. pic.twitter.com/sibMpV7Vby

— DG ISPR (@OfficialDGISPR) February 22, 2017


"Operation aims at indiscriminately eliminating residual / latent threat of terrorism, consolidating gains of operations made thus far and further ensuring security of the borders," the Inter-Services Public Relations (ISPR) said in a statement on Wednesday.

According to the military's media wing, air force, navy, civil armed forces and other security and law enforcement agencies will jointly participate in efforts to eliminate terror from the country.

Govt approves Rangers' policing powers in Punjab

"The effort entails conduct of Broad Spectrum Security/Counter Terrorism (CT) operations by Rangers in Punjab, continuation of ongoing operations across the country and focus on more effective border security management," the communiqué said. "Countrywide de-weaponisation and explosive control are additional cardinals of the effort."

Three 'facilitators' of Charsadda courthouse attack arrested


COAS chaired security meeting at Lhr. All Corps Comds Pb Province, DG PR Pb & int heads attended. Imp decisions taken. Being shared shortly. pic.twitter.com/r3h6N3zAPf

— DG ISPR (@OfficialDGISPR) February 22, 2017


The statement also highlighted that pursuance of the National Action Plan, which was formed after Peshawar school attack in 2014, will be the hallmark of Operation Radd-ul-Fasaad.

Pakistan has been hit by a series of suicide bomb attacks in recent days, claiming more than 100 lives.

At least 88 people were killed when a suicide bomber blew himself up at the Lal Shahbaz Qalandar shrine in Sindh's Sehwan town last week.

In response, the security forces had launched a crackdown, killing over 100 militants.




The following are the major operations carried out by security forces against terrorists in recent past:



Operation Rah-e-Haq-I, II and III in Swat (2007-09)


Operation Sirat-e-Mustaqeem in Khyber Agency (2008)Operation Sherdil launched with Frontier Corps in Bajaur Agency (2008)


Operation Rah-e-Rast in Swat (2009)


Operation Rah-e-Nijat in South Waziristan (2009)


Operation Sirat Mustaqeem (Righteous Path) in Bara (2008). This was followed by Operation Daraghlam (here I come) in December 2008, and Bia Daraghlam (Here I come again). The last operation Khawkh Ba de Sham (will teach you a lesson) was conducted in November 2009.


Operation Black Thunderstorm in Buner, Lower Dir and Shangla district (2009)


Operation Zarb-e-Azb in North Waziristan (2014)


Operation Khyber I, II and III in Khyber Agency (2014-16)


Operation Radd-ul-Fasaad across the country (2017)


COMMENTS (20)
Comments are moderated and generally will be posted if they are on-topic and not abusive.
For more information, please see our Comments FAQ