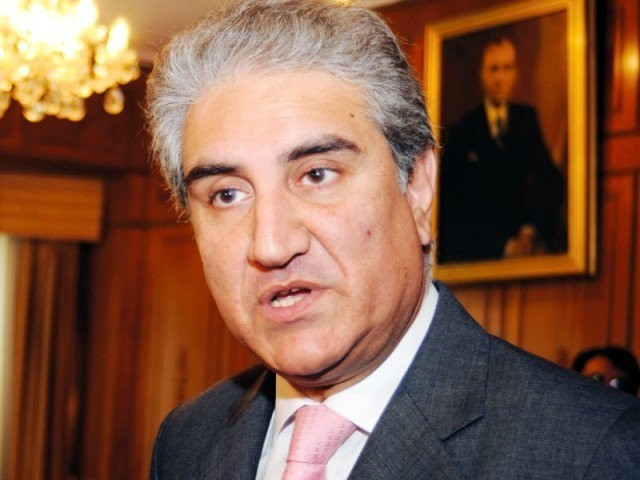 ---
KARACHI/ THARPARKAR: In a veiled reference to India, Pakistan Tehreek-e-Insaf Vice Chairman Shah Mehmood Qureshi said some neighbouring countries were using Afghanistan's soil to carry out terrorist attacks in Pakistan.
The PTI leader said that Pakistan should take stern actions to eliminate terrorists and their patrons.

Addressing rallies in different Tharparkar villages, Qureshi said that all the terrorist groups want to spread lawlessness, fear and anarchy in Pakistan.

"Sadly some foreign elements are supporting these terrorists to carry out their nefarious activities in Pakistan," he said adding that a few neighbouring countries were using Afghanistan's soil to launch attacks in Pakistan. "Neighbouring countries do not want to see peace and tranquillity in Pakistan".

Seven killed, 21 injured as sessions court in Charsadda comes under attack

Qureshi said that Pakistan hosted the Afghan refugees for 30 years and gave them respect, protection and all other facilities. He said that Pakistan also raised a strong voice for them on international forums.
The PTI leader regretted that some elements in Afghanistan were hatching conspiracies against Pakistan.

"These people train terrorists including children and send them to Pakistan for sabotage activities. These elements have now also started to target the shrines of saints," he stated. He warned India saying that if Delhi cast an evil eye on Pakistan it would be defeated.

"PTI will play a vanguard role for the protection of our national borders and India will first have to face stiff resistance from our party in case of any misadventure," he warned, He said that PTI had united the people of Thar and they would now challenge their oppressors and exploiters.

Military courts are the need of the hour, says Qureshi

He said for a visible change in Thar, its poor people have to wake up and fight for their due rights. "Our struggle will continue to strive for the realisation of basic rights of the Tharis," he resolved.

He said he is not visiting the Thar Desert to become an MNA, but rather to spread awareness in Thar so that its poor people get rid of poverty, hunger and deprivation. He said for a meaningful system change, the Tharis would also have to make some sacrifices.

"The people of Thar have to decide whom to follow politically and whom to reject," he said adding that loyalties of the proud people of Thar could not be bought for any money.

He stated that he would travel shoulder to shoulder with the people of Thar in the desert till they reach to their destination.

Qureshi and PTI Sindh leader Haleem Adil Sheikh strongly condemned the terrorism in Charsadda and expressed condolence with the bereaved families.