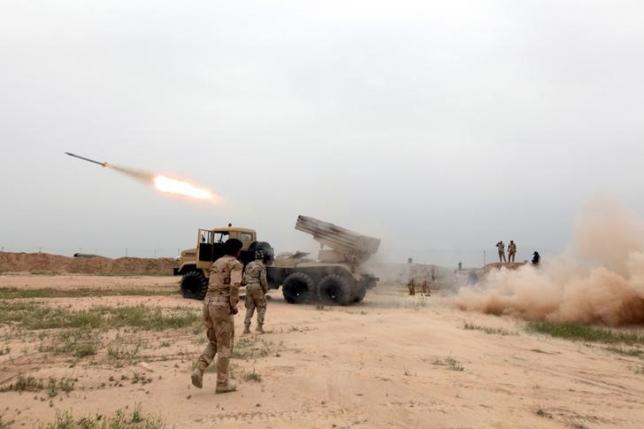 ---
IRAQ: Iraqi forces consolidated positions Tuesday after blasting their way to the southern edge of Mosul in an assault Baghdad and its partners hope will spell the doom of the Islamic State (IS).

They were upbeat on the third day of a rekindled offensive in the operation which was launched on October 17 to retake Iraq's second city, the IS group's last major stronghold in the country.

A myriad of forces including federal police, elite interior ministry Rapid Response units, soldiers and paramilitaries raced towards the disused airport which lies on Mosul's southern approach.

On Monday, Iraqi forces backed by jets and gunships retook Al-Buseif, a village which IS had used as its main base south of Mosul, said Brigadier General Abbas al-Juburi, of the Rapid Response force.

"It was cleared successfully and in record time," he said.

"We were fighting from house to house... A few [IS fighters] were wearing explosive belts," he said.

In the small hilltop village, all of Mosul visible in the distance, federal police in dark blue camouflage manned armoured vehicles and fired the occasional mortar round.

Iraq launches offensive on last Islamic State stronghold in Mosul

Holes from shrapnel were visible in the perimeter walls and facades of several houses, including the peach-painted outer walls of one home commandeered by the police forces.

A group of civilians, seven men and a few boys from a neighbouring village, came forward, some of them waving white flags.

The security forces had them raise their shirts to check for suicide belts.

One of them was given a mobile phone to tell others who had stayed back that they could follow while another informed the federal police on IS positions.

Juburi said that many IS fighters were killed in Monday's battle, tunnels discovered and equipment recovered and added that his forces were marking a pause on Tuesday.

"Today, we don't have operations. In the coming days we will advance north," Juburi said.

The Counter-Terrorism Service (CTS), whose troops are Iraq's most seasoned and have urban warfare training, were seen moving across lines on Monday towards Mosul's city limits.

"I don't think the western side will take us a lot of time," Juburi said.
US Defence Secretary Jim Mattis, who visited Baghdad on Monday, was also confident that the Iraqi security forces would have the upper hand, despite warnings by commanders and experts that Mosul's west bank could become the scene of some of the bloodiest battles yet against IS.

During a press conference after meetings with Prime Minister Haider al-Abadi and several defence officials, Mattis said the jihadists were "going to be shown exactly what they are, which is a bunch of murderous relics".

Senior US officials said that the estimated number of IS fighters left in Mosul was 2,000, down from the 5,000 to 7,000 believed to have been in the city before the offensive began four months ago.

The US-led coalition that has been fighting IS in Iraq and Syria since 2014 has carried out more than 10,000 strikes and trained tens of thousands of local forces.

After the Iraqi advance in east Mosul was slowed by stiffer than expected resistance late last year, the coalition stepped up its involvement.

Iraqi forces retake Mosul airport as humanitarian crisis continues

Earlier this week, US Brigadier General Chuck Corcoran said as many as 50 aircraft were over the city at any one time, so many that it's like "layers on a wedding cake".

He said drones circled lower down, fighter jets in the middle and U2 spy planes and other surveillance craft on top.

An estimated 750,000 civilians, almost half of them children, are trapped in west Mosul with dwindling food and medical supplies, according to aid organisations.

"Our neighbours' son died four days ago. For weeks now, families have been eating one frugal meal a day, often yoghurt with boiled potatoes," Abu Ahmad, a west Mosul resident, told AFP by phone.

The United Nations fears at least a quarter of a million civilians could flee the fighting in the coming days and weeks, adding to the 160,000 already displaced by the first four months of the offensive.
COMMENTS
Comments are moderated and generally will be posted if they are on-topic and not abusive.
For more information, please see our Comments FAQ