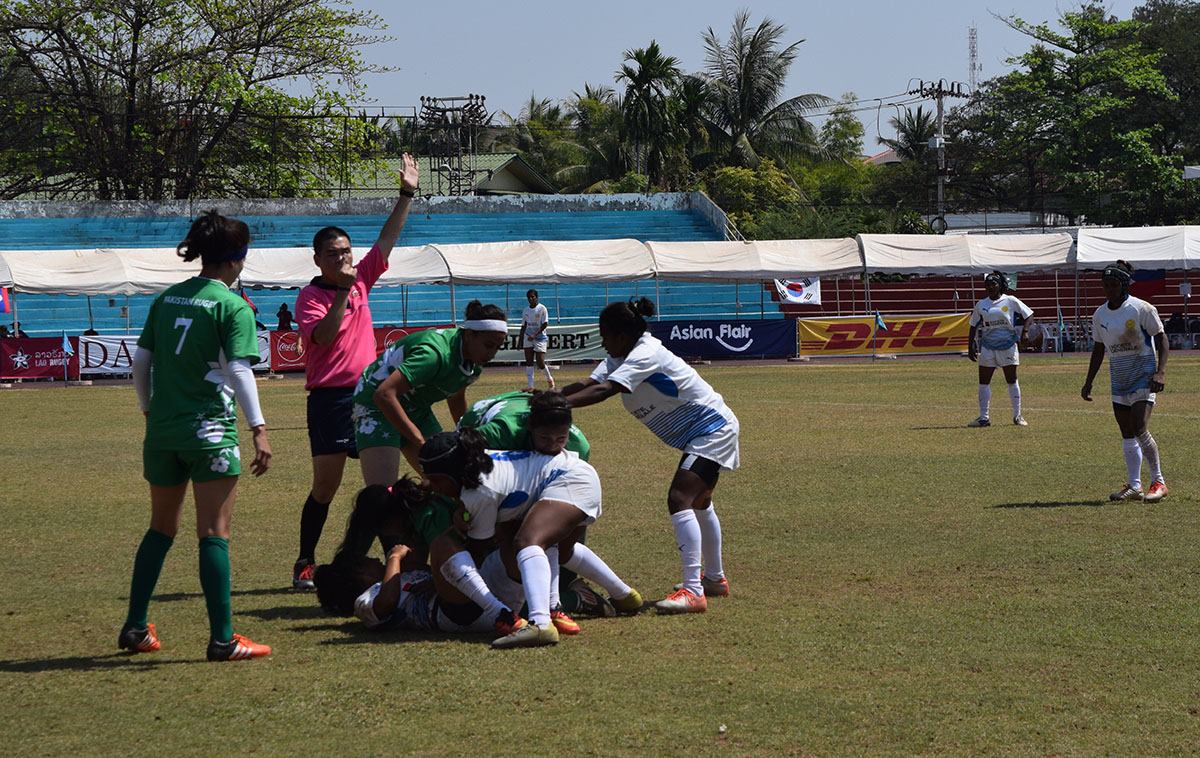 ---
KARACHI: Pakistan women's rugby team returned to Pakistan after making their international debut at the Asian Rugby Sevens Trophy in Laos, and the players feel this is just the start for the development and promotion of women's rugby in Pakistan.

Fawzia Hayat, who played as the winger in the tournament and was part of 12-member team, believes that the experience has been a life-changing one, not only for her personally but for the entire female population in Pakistan who can now pursue rugby professionally.

Hayat, a physical training teacher at the Beaconhouse School System, feels that it was a great achievement for the team to participate in the regional tournament, while to win a match — against Nepal 17-7 — on their debut was a cherry on the top.


Pakistan coach optimistic of good results at Asia Rugby Sevens


Pakistan were competing against India, Philippines, Malaysia, South Korea, Nepal and hosts Laos in the two-day event.

"It was a great experience, and of course this will go down in history," Hayat told The Express Tribune. "We still have a long way to go but this was more about getting out there and seeing what the level of competition is. We were inexperienced, yes, but we had it in our minds that we are here to win. Winning that one match meant a lot for us."

Hayat feels that the most intense match was against India, which they lost by just one try. "I think we were just emotional about our participation and there was a lot of pride generally, but against India I feel we did all that we could. Their team is far more experienced than ours but we made sure that we make it hard for them," said Hayat.

She admitted that choosing rugby as a career was not easy as most people would discourage the thought. However, after the tournament, the reactions have begun to change.

"My parents were more concerned about the possibility of injuries rather than me playing, but there were others who thought that this was a man's game. But now those people are the first to acknowledge our feat. My family is extremely proud to see me don the national colours and it is the same with other players in the team," she said.

The squad trained with coach Shakeel Ahmed in Lahore for two months at the national camp before the tournament. And for Ahmed, the tournament went better than expected. "Participation was important and then they won a match too, so it shows they have the potential," he said.


Fight like a girl – empowering women for self-defence


He further added that Pakistani women were far superior in terms of physicality but lacked in skills.

"We are a new team and our players don't have the same exposure as other teams," said Ahmed. "In fact during the tournament, coaches from other countries came to me and complemented me on the way our team played. It was far better than I expected them to play. Our players have better physique; they were taller than others and there is a natural talent, but it needs to be polished."

Ahmed will be proposing a two-year plan for women's rugby to the Pakistan Rugby Union which will include more international events in the future. "It is a good start and we can be among the top teams in our region in the next two years. The players' confidence levels will improve with more participation in international events, so we are hoping for lot more now," concluded Ahmed.