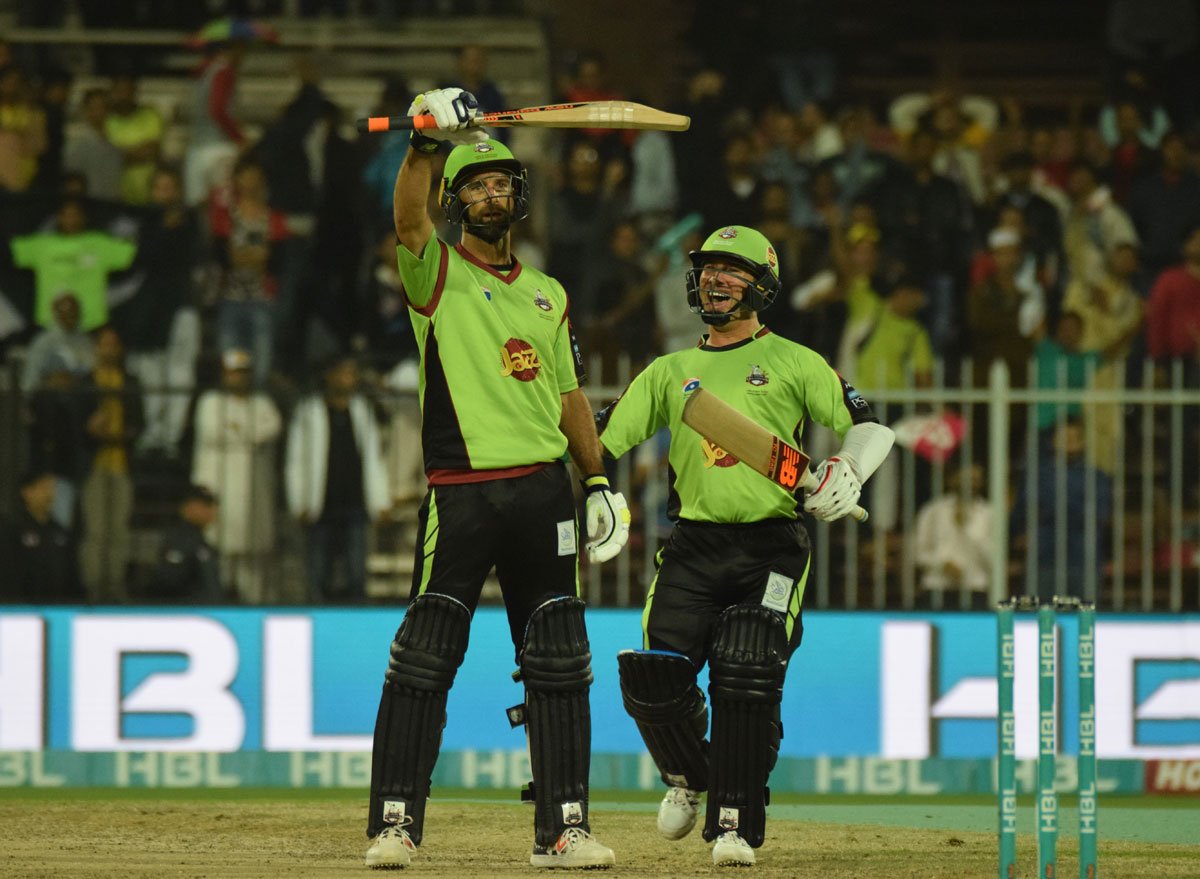 ---
Lahore Qalandars Grant Elliott sent social media into frenzy with his unique celebration after a thrilling contest against Islamabad United at the Sharjah Cricket Stadium on Monday.

Former New Zealand all-rounder Elliott, who is remembered for his stunning batting display in the semi-final of the ICC World Cup 2015 against South Africa, once again showed his class by hitting a match-winning six against the defending champions.


Pakistan Super League: Karachi edge Peshawar despite Afridi's heroics


After hitting the maximum, the 37-year-old dropped his bat while standing still, a celebration which became quite popular on the social media afterwards.

Here are some of the best reactions regarding the special event, including that from Punjab, Chief Minister Shehbaz Sharif, who is most likely supporting Lahore.


Or Elliot ? https://t.co/5QuKNeTSeW

— Shehbaz Sharif (@CMShehbaz) February 20, 2017


https://twitter.com/Safwan__Ahmed/status/833763220171137025


Pakistan Super League: Zaman stars in Lahore's seven-run victory over Karachi



Mic drop! 🎤@grantelliottnz @lahoreqalandars @thePSLt20 #PSL2017

— Isa Guha (@isaguha) February 20, 2017
A six to win the game and a bat drop to celebrate. Don't ever change @grantelliottnz https://t.co/BJ5R7G9dCw pic.twitter.com/ARSy1O3oTe

— CODE Cricket (@codecricketau) February 21, 2017
This "Bat Drop" Moment will Live on For EVER in the history of hblpslofficial 😍Grant Elliot !… https://t.co/yIaQMgjnuV

— Mehwish Hayat TI (@MehwishHayat) February 20, 2017
OUTSTANDING hahahaha https://t.co/n6RzKK66mK

— Jason Roy (@JasonRoy20) February 21, 2017
My tribute to @grantelliottnz and @Umar96Akmal #BatDrop #damadammast @lahoreqalandars #LQ 👊🏻🙌🏼 pic.twitter.com/FHl1geKccC

— Aisha Randhawa (@HariMirchein) February 21, 2017
Thanks to all the @lahoreqalandars for the support. @Umar96Akmal was special tonight as was @amiryamin54 #batdrop #damadammast pic.twitter.com/frDGOECtbQ

— Grant Elliott (@grantelliottnz) February 20, 2017
Wait let me just show you: DROP IT LIKE ITS GRANT ELLIOTT pic.twitter.com/PYGhZuNARI

— Osman Samiuddin (@OsmanSamiuddin) February 20, 2017


https://twitter.com/Srwells7/status/833772799739076608


By : https://t.co/aFMAhlldDU#BatDrop #LQvIU #DamaDamMast @lahoreqalandars @thePSLt20 pic.twitter.com/Mr3x7fiAmn

— आदिल (@qalandari4life) February 21, 2017
What a finish @thePSLt20. Just when @alanwilkins22 wanted to #senddanny to bat another Kiwi finished it. @grantelliottnz super six #IUvLQ

— Gautam Bhimani (@gbhimani) February 20, 2017
COMMENTS (1)
Comments are moderated and generally will be posted if they are on-topic and not abusive.
For more information, please see our Comments FAQ