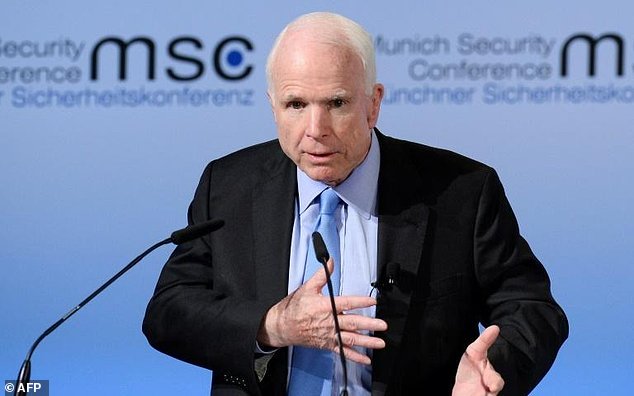 ---
RIYADH: Influential American Senator John McCain, a critic of President Donald Trump, held talks with Saudi Arabia's King Salman on Tuesday, official media said.

McCain, who chairs the Senate Armed Services Committee, arrived in Riyadh after talks on Syria with Turkish President Recep Tayyip Erdogan.

The Saudi Press Agency gave no details of McCain's meeting at Salman's office, except to say that the friendly ties between their two countries were discussed.

McCain's visit comes two days before Syria's government and the opposition gather in Geneva on Thursday for a new round of United Nations-brokered talks aimed at ending six years of fighting.

Ignoring Pakistan will be dangerous for US: John McCain

Saudi Arabia, Turkey and Qatar have provided military and financial aid to rebels fighting Syria's President Bashar al-Assad.

All are also members of a US-led coalition battling the Islamic State jihadists there.

After his talks in Syria, the Republican senator from Arizona said on his website that Erdogan "described a proposal to establish safe zones in Syria and retake Raqa that should receive serious consideration by the United States".

He was referring to the IS base in Raqa, Syria.

Saudi Foreign Minister Adel al-Jubeir has expressed optimism that the Trump presidency will be more engaged in the region, particularly in containing Iran which backs the Assad regime and rebels in Yemen.

John McCain lauds Pakistan's role in terror fight

Assad's other main ally is Russia, against which McCain takes a hard line.

Trump, in contrast, has faced allegations of improper Russian influence on his administration, something he denies.

The New York Times on Sunday called McCain "critic in chief" of the Trump presidency, partly for his defence of traditional Republican foreign policy positions that contrast with those of the president.
COMMENTS
Comments are moderated and generally will be posted if they are on-topic and not abusive.
For more information, please see our Comments FAQ