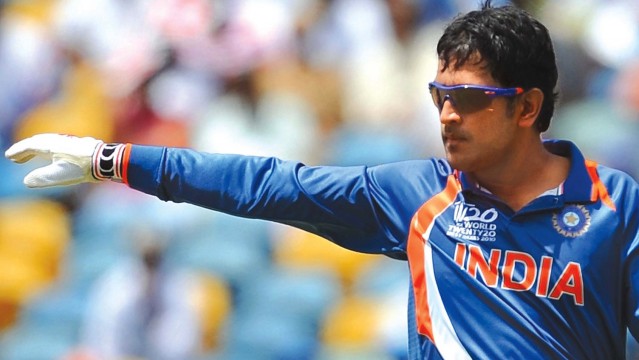 ---
KARACHI: India's failure to reach the semi-finals of the World Twenty20 for the second time running may result in their captain Mahendra Singh Dhoni being stripped of the captain's armband of India's Twenty20 and One-Day International teams.

Dhoni, who led India to the inaugural World Twenty20 title in 2007 and the number one status in Test cricket while performing with the bat as well, may well be replaced by Virender Sehwag who has missed the last two World Twenty20 tournaments due to injury. The replacement, if the BCCI decides on that, may be named as early as next month as India prepares for the Asia Cup to be held in Sri Lanka. Dhoni, it is believed, will keep his job as the Test captain where India still holds the status as the top-ranked side in the world.

India's inability to counter the short balls - the reason behind their exit in both tournaments - also prompted Indian legend Sunil Gavaskar to suggest they rectify their problems in the National Cricket Academy (NCA). "The guys who have been found to be uncomfortable against the short ball should be sent to the NCA, where they will be able to practice against the short ball, either through a bowling machine or maybe with some of the younger bowlers bowling to them from say 18 to 16 yards," Gavaskar told CNN-IBN. "They're under contract with the BCCI so nobody can actually claim that they need a break.

They don't need a break if they haven't performed, they need to go to the NCA and hone their skills against the short ball." However, Gavaskar threw his weight behind Dhoni. "Dhoni has done the best that he could. I think he's the best bet as far as captaining the country is concerned. He has not quite had the luck he had when he had started with the India captaincy."

Published in the Express Tribune, May 15th, 2010.
COMMENTS
Comments are moderated and generally will be posted if they are on-topic and not abusive.
For more information, please see our Comments FAQ