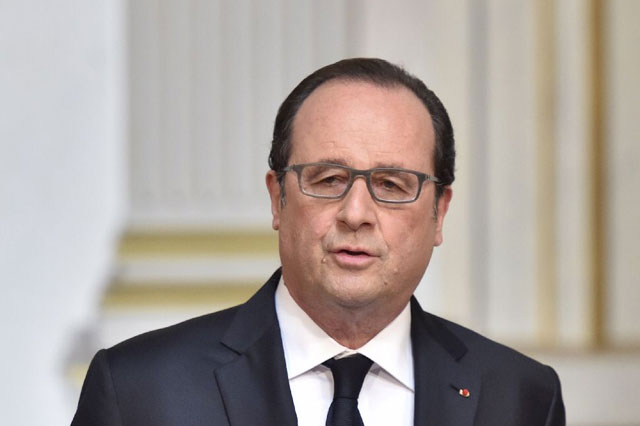 ---
PARIS: French President Francois Hollande called Tuesday on Britain to "accept its responsibility" to take in stranded under-age migrants stuck in France who wish to join up with family in the UK.

The issue has been a constant irritant between the two countries, made worse by Britain's decision this month to end an arrangement to take in up to 3,000 unaccompanied minors from Europe.

British MPs approve first stage of Brexit bill

The scrapping of the so-called "Dubs agreement" by Britain's conservative government has sparked criticism from opposition MPs in London and led to anger in France.

"France is playing its part in the European effort. We expect that our partners do the same, particularly when we are talking about minors on their own," Hollande told a conference on children in conflict zones.

"I call on the United Kingdom to accept its responsibility for adolescents in France at the moment who have family on the other side of the Channel," he added.

Last October, French authorities cleared a squalid camp near the Calais port on the Channel sea separating the countries which was filled with thousands of migrants hoping to reach Britain.

The camp dwellers, many fleeing war in Sudan, Iraq or Afghanistan, were dispersed around France. Children with family in Britain were assured that authorities would help them travel to reach them.

A first wave who arrived in Britain shortly afterwards sparked outrage in the right-wing press, with opponents questioning the age of some of the children who appeared to be teenagers or older.

One conservative MP suggested the new arrivals should undergo dental tests to prove their age. On February 8, the government announced it would limit to 350, instead of 3,000, the number of unaccompanied young migrants who would be admitted from Europe.

UK PM May says did not have advance notice of Trump refugee order

Interior minister Amber Rudd argued that the scheme was encouraging children to travel to Europe and that Britain had accepted thousands of others from camps bordering war-torn Syria.

Prime Minister Theresa May has made reducing immigration one of her priorities since taking office in July following her country's decision to leave the European Union.