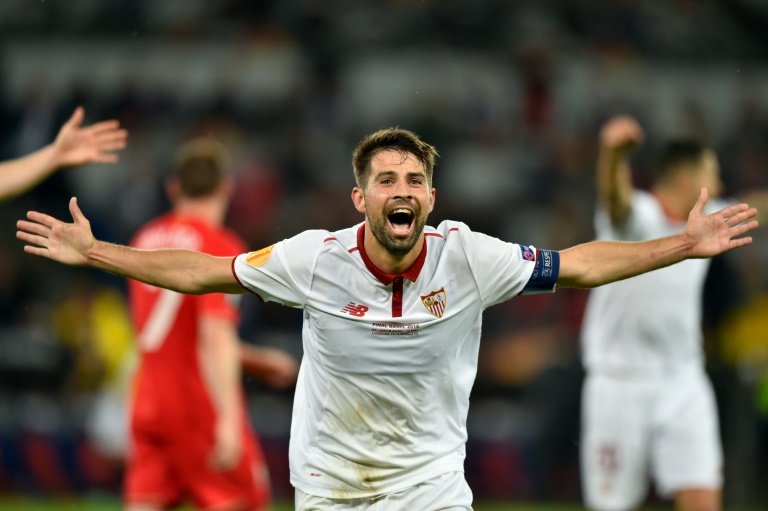 ---
SEVILLE: There are few football clubs where the star is the sporting director, but Ramon Rodriguez Verdejo, or "Monchi" as he is better known, has been the architect of Sevilla's most successful era by far.

Since taking over as sporting director in 2000, the former goalkeeper has guided the club from Spain's second division to five Europa League titles.

Moreover, Monchi has done so whilst raking in hundreds of millions of euros as the likes of Dani Alves, Sergio Ramos and Ivan Rakitic headed for greener pastures and replacing them at a fraction of the cost.

"We are more a business now than a football club and on the field we have achieved incredible feats that we never dreamed of," Monchi told AFP in an exclusive interview.

He said the Sevilla never saw the success it deserved in the past but "I am happy that the club ... has managed to consolidate itself among the elite of Spanish and European football."

Barcelona, Sevilla maintain pressure on Real Madrid

That consolidation among the elite can take one step further this week when struggling English champions Leicester City visit the Sanchez Pizjuan for the first leg of their Champions League last 16 tie.

For all Sevilla's success in the Europa League, Europe's second tier competition, they have never reached the quarter-finals of the Champions League under Monchi's watch.

"There is a tremendous excitement, atmosphere and an ambition to take that long-awaited step into the best eight teams in the Champions League," he said. "It would be another step in the growth of the club, growing our brand, the confidence in the project and a reaffirmation of what we are doing."

The sides couldn't come into the game in more contrasting fashion with Sevilla riding high in La Liga, whilst, just a year on from producing one of the greatest stories in the history of football, Leicester face a relegation battle just to remain in the Premier League.

"It surprises me because I think they have a good squad," said Monchi. "If we compare it to last year, there is only one important difference and that is the absence of [N'Golo] Kante."

Under-fire Ranieri receives support from club owners

If anyone knows how to deal with the task of replacing departed stars and maintaining success it is Monchi's Sevilla.

Yet, even by his standards, the reconstruction job carried out in pre-season was a remarkable one.

Paris Saint-Germain poached coach Unai Emery and key midfield cog Grzegorz Krychowiak, whilst last season's top scorer Kevin Gameiro joined Atletico Madrid.

Monchi himself had doubts that the project was sustainable.

The club refused to accept his resignation and so he set about bringing in Argentine coach Jorge Sampaoli and assembling a very different squad to the one required by Emery.

"It was the most difficult [summer] for many reasons," he said.

"For personal reasons, but fundamentally because there was a very sudden change of coach with plans having already begun.

"A new coach means a new plan. It put our department to the test and I think we reacted well."

Emery, PSG look to get one over Barcelona at last

Eleven new players were signed, but it was the last of them that has made the biggest impact.

Monchi's Sevilla has not only the scouting network to pick up hidden gems, but increasingly is also becoming a stage for fallen stars to rediscover their form, as in the case of Manchester City loanee Samir Nasri.

"We thought that if Nasri is happy, he won't have forgotten how to play football. We have tried to make sure the person feels good so that the footballer can appear," he said.

All good things must come to an end, though, and there is a growing sense that after 30 years at the club he loves, this season may be Monchi's last at Sevilla.

If so Serie A giants Roma look best-placed to inherit his magic touch in the transfer market as he believes the cash rich nature of the Premier League wouldn't allow him the autonomy he craves.

"I have said many times that France and Italy are the models that are perhaps the leagues that attract me most because the figure of sporting director has more weight," he said. "There are other leagues like England, which is very attractive, but perhaps the role of sporting director doesn't fit because there is a different type of model."