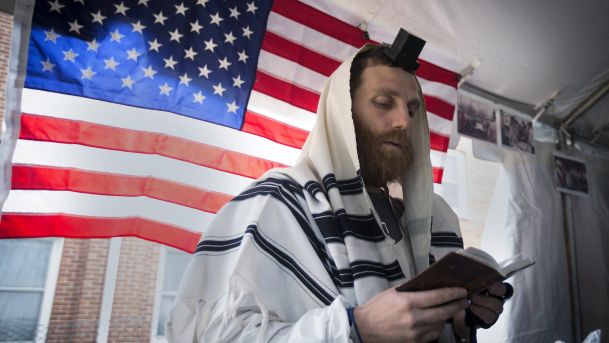 ---
WASHINGTON DC:
Nearly a dozen Jewish community centers across the United States received bomb threats that led to evacuations Monday, in the latest wave of such attacks since Donald Trump became president a month ago.
The latest phoned-in threats, at 11 separate sites, bring to 69 the total number of such incidents - at 54 Jewish community centers in 27 US states and one Canadian province - according to the JCC Association of North America.
It cautioned, however, that all bomb threats made Monday, as well as on three others dates - January 9, 18 and 31 - turned out to be hoaxes, and all targeted community centers have resumed normal operations.
Anti-Muslim hate groups nearly triple in US since last year: report
The FBI and the Justice Department's Civil Rights Division are said to be investigating the incidents.
Meanwhile, local media reported that more than 100 headstones were damaged at a Jewish cemetery in St Louis, Missouri. "Over the past weekend, unknown persons knocked over multiple monument headstones within the cemetery," University City police said in a statement. Police staff declined to confirm the number of damaged headstones at Chesed Shel Emeth Cemetery as they review video surveillance on the property and nearby businesses for the ongoing investigation.
The Southern Poverty Law Center, which tracks extremism, said in a recent report that the number of hate groups is rising and now at near-historic highs, linking it to the surge in "right-wing populism" during a bitterly fought presidential election that "electrified the radical right" and ultimately elected Trump.
 White House condemnation 
The Trump administration denounced the latest incidents.
"Hatred and hate-motivated violence of any kind have no place in a country founded on the promise of individual freedom," a senior administration official said. "The president has made it abundantly clear that these actions are unacceptable."
The story behind the viral photo of Muslim and Jewish children protesting Trump
Trump's daughter Ivanka, a convert to Judaism who has played a prominent role in his young administration along with her husband Jared Kushner, was quick to denounce the bomb threats on the Jewish community centers.
America is a nation built on the principle of religious tolerance. We must protect our houses of worship & religious centers. #JCC

— Ivanka Trump (@IvankaTrump) February 20, 2017
The JCC Association of North America, vowed that it "will not be cowed by threats intended to disrupt people's lives or the vital role Jewish community centers play as gathering places, schools, camps and fitness and recreation centers."
"While we are relieved that all such threats have proven to be hoaxes and that not a single person was harmed, we are concerned about the anti-Semitism behind these threats, and the repetition of threats intended to interfere with day-to-day life," said the group's director of strategic performance David Posner.