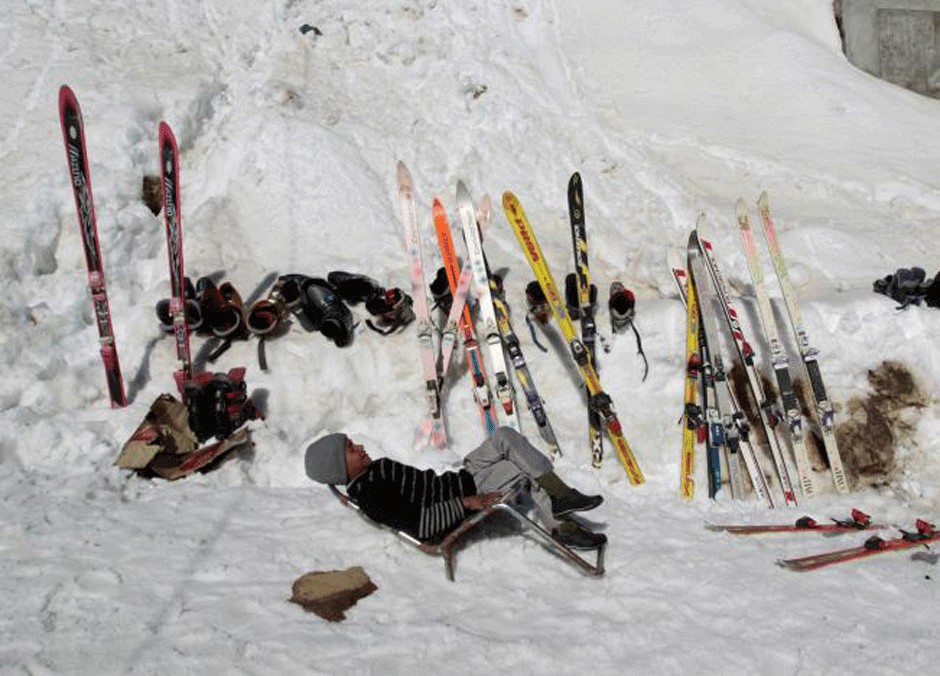 ---
MALAM JABBA: Atop the piste of Malam Jabba in Pakistan's once dangerous Swat Valley skiers schuss downhill, a new Chinese-built chairlift ferries tourists to the peak, and a luxury hotel is under construction to replace one torched by the Taliban.

The Taliban declared skiing "un-Islamic" during their 2007-2009 reign of terror over Swat, but improved security in recent years has allowed ski tourism to re-emerge on Malam Jabba, a hill station in the Hindu Kush mountain range.




Locals tout Swat as "the Switzerland of Pakistan", with an international ski tournament held there in January.

But the experience is uniquely Pakistani. Army checkpoints abound, while gun-toting policemen riding up the mountain flout chairlift signs warning: "No Smoking, No Weapons".




There is no apres-ski boozing as alcohol is banned, nor Swiss Raclette cheese, but lentil curry and deep-fried kebab patties make ample fuel for skiers.

"I have never seen snow before. I am very excited," said Usman Shaukat, a 22-year-old student from the sweltering Punjab in the south after his first ski lesson.




Shaukat, who travelled some 600 km (373 miles) and braved pot-holed mountain roads by public bus to reach the ski slopes, is part of a new wave of domestic tourists emerging as security improves, the middle-class prospers and social media sites like Facebook reveal a Pakistan many never knew existed.

It is also easier for Pakistanis to explore their own country than holiday abroad.




Regional road trips are difficult, with war-torn Afghanistan and arch-foe India next door, while the United States and many European countries have tightened visa restrictions as part of tougher security measures.

Part-time travel blogger Saira Ali, 27, began exploring her own nation after the United States denied her a visa in 2013.

"If my visa had not been rejected, I wouldn't have seen Pakistan," said Ali, who charts her travels on Instagram.




Growing car ownership and freshly-paved roads have cut journey times to remote holiday destinations, swelling the number of adventure seekers in a nation of 200 million people.

Hotel owners say Pakistan's isolation has been a blessing for business. Last summer, visitors to cool northern areas slept in cars as budget hotels sold out, say tourist guides.




Guesthouses are now popping up along roads to Pakistan's northern mountains, which until 1970s were a stop-off for Westerners on the "Hippie Trail".

Outside Swat's main city of Mingora, where the Taliban once hanged opponents from electricity pylons, one businessman is ploughing $1.5 million into a 13-floor hotel with 60 rooms and a miniature zoo.

"In the future, Swat will prosper, as security here is now very good," said Khan, sitting near two caged monkeys.

RECENT ATTACKS THREATEN TOURISM

Militants have lost a lot of territory, but the Taliban and others, including Islamic State, still carry out periodic large-scale bombings.

A series of attacks last week hit all four of Pakistan's provinces and two major cities, killing nearly 100 people and shaking a nascent sense that the worst of the country's militant violence may be in the past.




Before the 9/11 attacks in the United States foreigners accounted for the majority of Pakistan's tourists. Today, Western embassies advise against visiting much of Pakistan.

The actual scale of domestic tourism is hard to judge, as scant nationwide data exists since the government dissolved the federal tourism ministry in 2011.

In Gilgit-Baltistan province, home to the Himalayas and the world's second highest mountain K2, domestic tourist numbers rocketed to nearly 700,000 last year, from 250,000 in 2014. Foreign tourists accounted for less than 2 percent of all visitors, the Gilgit-Baltistan tourism department said.

"Because of the larger numbers of local tourists, no one is really feeling the pinch of not having the foreigners," said Siraj Ulmulk, a hotel owner in Chitral, a region bordering Swat.

But the surge in tourists has a price. In Pakistan's southwestern Balochistan province, visitors to mud volcanoes dotting the lunar landscape of Hingol National Park are welcomed by a carpet of plastic bottles and cigarette wrappers.




"The downside of local tourists is that they throw thrash everywhere and have no respect for nature," said Muqeem Baig, owner of tour company Climax Adventure Pakistan.

At Swat's Malam Jabba, which originally opened in 2000, locals remember well-heeled businessmen and Western diplomats sojourning on weekends.

That changed when the Pakistani Taliban overran Swat in 2007, imposing their harsh interpretation of Islamic law for two years before the army drove them out.




Samsons, a private company that acquired the state-owned resort in 2013, hopes Pakistanis will now return, seeking a taste of the Alps on a shoestring budget.

Returning to the resort for the first time since 2010, retired Malam Jabba engineer Akbar Ali had thought he would never ski again.

Clad in traditional shalwar-kameez robes, Ali, 67, eyed the piste and wedged his feet into ski boots.

"I'm very happy," he said, and headed up the powdery slope.