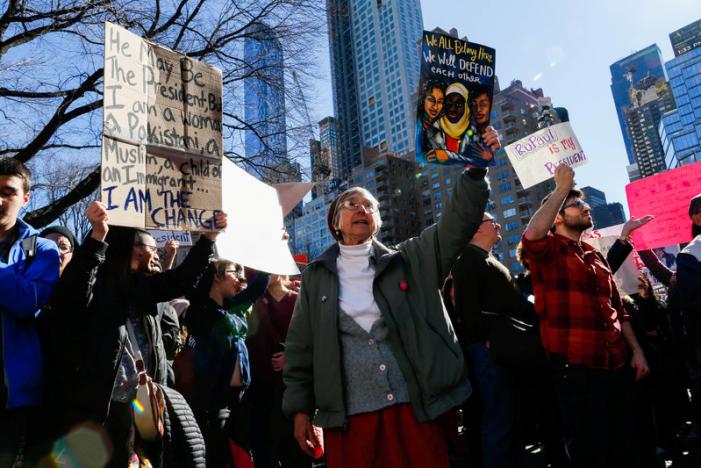 ---
About 10,000 anti-Trump protesters marched in New York to shouts of "not my president!" Monday, joined by others in cities across the United States on the US Presidents Day holiday.

After a raucous first month in office, President Donald Trump returned to Washington after spending a weekend at his Mar-a-Lago estate in Miami Beach, Florida, dubbed the "Winter White House."

Trump's America: A new realm of unpredictable protests

The "Not My Presidents Day" protests aim to show grassroots opposition to the Republican president remains fervent one month after his January 20 inauguration.

Controversies over the property tycoon's unprecedented approach to running the world's remaining superpower are at full-pitch amid investigations into ties between Trump and his associates with Russia.

The 70-year-old political novice has raised eyebrows in Twitter postings, his preferred method of public communication that bypasses the nation's media, which he calls "the enemy of the American people."

He tweeted an all-caps message to celebrate the holiday, writing: "HAPPY PRESIDENTS DAY - MAKE AMERICA GREAT AGAIN!" With his job approval rating at a historically low 40 percent, according to a Gallup poll published Friday, the 45th US president is expected this week to work on filling out his administration's top spots and rejigging his controversial immigration order that was blocked by the courts.

Thousands join global day of anti-Trump protests in London

On Monday, he named counterinsurgency strategist US Army Lieutenant General H.R. McMaster as his new national security advisor. McMaster takes over the post left vacant after Michael Flynn was ousted on February 13 after giving misleading statements about his contacts with Russia to Vice President Mike Pence.

Earlier in the day, the president played 18 holes of golf with Irish golf superstar Rory McIlroy at Trump International Golf Club, according to media reports.

Anti-Trump activists took advantage of the federal public holiday, dedicated to US presidents, to organize rallies in a number of cities including Los Angeles, Chicago, Atlanta and Washington.

On the streets of New York, Trump's home base, demonstrators of various ages and backgrounds gathered in Columbus Circle, in front of Trump International Hotel and near Central Park, to voice their dismay.

The mood was festive, and the crowd grew to 10,000, according to an unofficial police estimate.

One of the protesters, retired psychotherapist Rima Strauss, wore a denim jacket with a button that read "Not my president" and another one showing a picture of Russian President Vladimir Putin holding a baby Trump in diapers.

"He's hurting our country. We're losing our country if we don't do something," Strauss said.

"Trump won't listen to us, but if ordinary people march in the streets, maybe we'll have some kind of revolution against Trump, I hope."
Qamar Khan, a 26-year-old medical school student from Pakistan, said that as a Muslim he wanted to voice disagreement with Trump.

Mexicans to stage anti-Trump protests

"We are Muslims. We want to spread the message of peace and love, true Islam," he said, adding, "I do obey President Trump as our president, but I don't have to agree with his policies."

In Los Angeles, protesters carried anti-Trump signs outside City hall, some reading "1. Resist 2. Impeach" and "Trump is Mentally Ill," with the "u" in his name replaced by the Russian Communist symbol of a hammer and sickle.
COMMENTS
Comments are moderated and generally will be posted if they are on-topic and not abusive.
For more information, please see our Comments FAQ