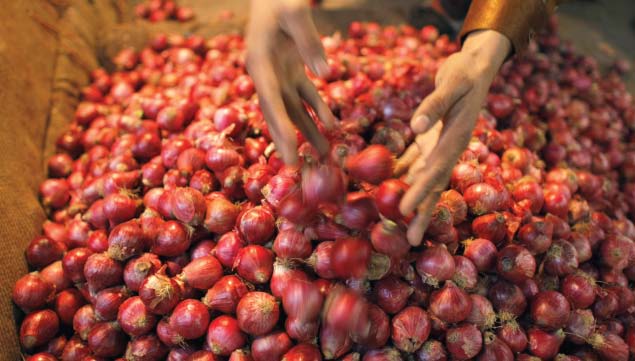 ---
KARACHI: Pakistan shipped on Monday its first-ever vegetable consignment to Dubai via sea, an experiment which will considerably increase exports because of sharply lower freight cost compared to air shipments.

The consignment of nine selected vegetables - tomato, brinjal, cucumber, carrot, okra, long melon and others - was shipped on an experimental basis as part of the Agricultural Market Development (AMD) project of the United States Agency for International Development (USAID).

Envoy invites UAE to invest in CPEC

"The freight service via sea will not only drastically reduce cost of the project, but will also enable exporters to tap more markets in the UAE and other Gulf countries," said Waheed Ahmed, former chairman of the Pakistan Fruit and Vegetable Exporters, Importers and Merchants Association.

Calculations suggest the average per kg cost of air shipment to Dubai is around Rs80 per kg compared to Rs5 per kg through sea route, which is lower by around 94%.

"In case this experiment turns out to be a success, the country will be able to increase its vegetable exports by 500% in the next two to three years," Ahmed added.

India is already using the sea route for exports of highly competitive fresh products to the Middle Eastern markets. "Pakistan will also be able to compete in the market of vegetable and horticulture products, if the experiment of sea freight becomes successful," he said.

Exporters will use the route commercially to export fruits and vegetables to Dubai, which receives about 35% of total Pakistani vegetable exports.

According to Ahmed, the consignment shipped via sea will reach Dubai within three to four days. He appreciated efforts of the AMD-USAID and the Department of Plant Protection, which works under the Ministry of National Food Security and Research, for striving hard to give a boost to the value chain and marketing of fruits and vegetables.

The consignment of nine vegetables, weighing seven tons, was earlier processed and packed under the supervision of experts of the AMD-USAID at a packaging house in Gharo, Sindh.

The process was monitored by Dr Mubarak Ahmed, former director general of the Department of Plant Protection and Dr Waqar Ahmed of AMD-USAID's Value Chain.

Dubai-based Gerry's dnata to invest $18m to double capacity in Pakistan

Mubarak Ahmed said the shipment via sea route was cost effective because of which it had become a common practice in the world. "Exports through sea routes can also help Pakistan in increasing its fresh vegetable and fruit exports," he said.

AMD Project Chief of Party Peter Dickrell believed that the project would open up new doors for growers, exporters, processors and other stakeholders of the industry.

According to the arrangement, five exporters of Pakistan will receive the consignment in Dubai and display the vegetables at the upcoming Gulf Food Festival.

Published in The Express Tribune, February 21st, 2017.

Like Business on Facebook, follow @TribuneBiz on Twitter to stay informed and join in the conversation.