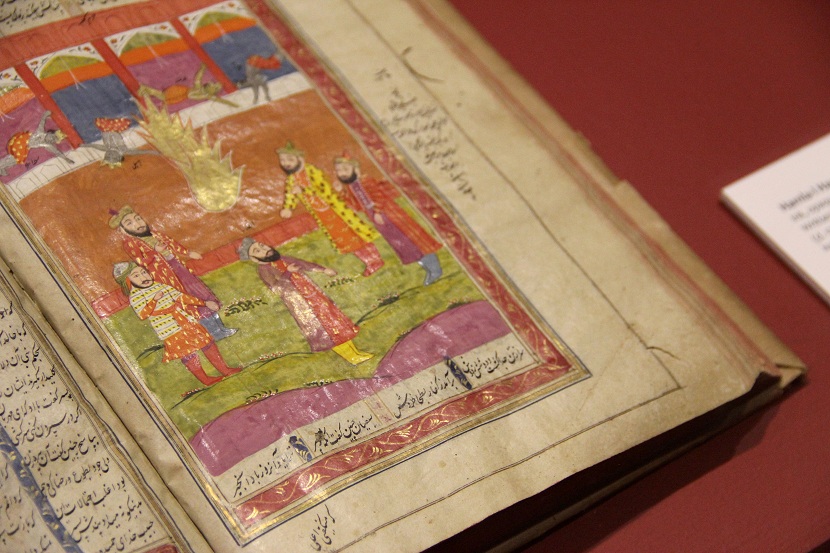 ---
KARACHI: Kashmir is presently in a state of turmoil but the handicrafts coming from this region put the artisans and their work in the spotlight at an ongoing exhibition, 'Paradise on Earth: Manuscripts, Miniatures and Mendicants from Kashmir', at Mohatta Palace Museum.

Beautifully displayed objects showed some manuscripts, including one of the oldest copies of the Holy Quran and some devotional text dedicated to the memory of Prophet Mohammad (PBUH) written in Arabic.

There were also some Hadiths that were written within a khanqah in Kashmir and some Persian texts that included images drawn from the old folk tale of Layla and Majnu and the 'Shahnama'.

One would be delighted to see the tale of Yousuf and Zulekha in one of the Persian manuscripts which was also on display.




Kashmir Solidarity Day: Wide array of folk artistry on display

From a manuscript displayed from 'Ain-i-Akbari', which recorded details of Mughal emperor Akhbar's empire, written by Abul Fazl to miniature paintings depicting the landscape of Kashmir and the adjoining areas of the war-torn valley, the items on display spread an atmosphere of fascination.

Most of the items on display are the property of the National Museum of Pakistan and were borrowed for the exhibit. However, a few items were that of private Kashmiri art collectors such as Syed Nizam Shah and his wife Nasreen Shah who entrusted the custodians of Mohatta Palace with their valuable items.






"It took almost six months to place this exhibition on the floor of the gallery," the exhibition's curator, Fatima Quraishi shared with The Express Tribune while showing metal objects displayed in brass and silver with Kashmiri handcrafted work on it.

Cultural Festival: Kashmiri crafts brought to the capital

"The place and the region itself is the most topical and relevant subject and a recurring theme," said Mohatta Palace director Nasreen Askari, adding that Quraishi unearthed a treasure trove in Karachi by discovering some of the items which were kept at the National Museum of Pakistan.

"That discovery is really where it started from," she said.

"Kashmiri craftsmen are so skilled. One wouldn't find any object similar to theirs in any other part of the world," said Askari, adding that the Kashmiri craftsmen have a Sufi sensibility which is close to the Divine and their quest for beauty which seems like an unusual thing to us is unique unto itself.




Traditional skills : Kashmiri artisans transfer knowledge to students

"The land has been in strife and under a lot of stress with tension continuing to rise in the region which is brewing hatred, but look at the work these Kashmiri craftsmen produce," said Askari, pointing out that it is imperative to record their work across our cultural heritage lines.

"It really is paradise on Earth- that's Kashmir for us," summed up Askari.



With 65 objects on display of various kinds speaking the Kashmiri language in its truest form, 32 men, including nine gallery attendants, helped Askari place the exhibition.

The exhibition is on display at Mohatta Palace for at least three months.