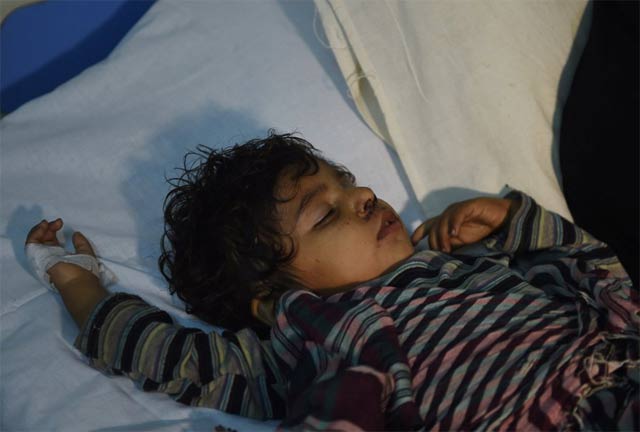 ---
SEHWAN: Just out of curiosity, the five children had run to the shrine's courtyard to see the dhamaal.

Naseeran, though 12 herself, had taken the responsibility of keeping her young nieces and nephews together to make sure they did not go missing in the crowd visiting Lal Shahbaz Qalandar's shrine on Thursday.

The children— Saima, 9, Ghaffar, 5, Sagar, 5, Aliya,4— were engrossed listening to the traditional evening drumbeating and watching the devotees perform the dhamaal when the suicide bomber struck, killing at least 88 people including the five children.

The family, living in Karachi, were visiting their native Sehwan for the burial of another family member, Singhar Ali Chandio, who as per his will was to be buried in the Karbala cemetery.

In Memory Of Sehwan victims remembered  

The trip, originally planned shorter, was extended and the family had stopped at the shrine to pay respects to the Sufi saint before returning to the port city.

"We had come to Sehwan three days ago for the burial of our brother but little did we know that we would have to endure five more losses," Naseer Ahmed Chandio told The Express Tribune.

A stampede broke out after the blast and people frantically started looking for their loved ones.

"People were running, looking for their loved ones while the injured cried for help. Those breathing their last were idly staring up at the sky," he recalled.

"We ran to the courtyard to look for our children. We didn't find them at first but kept searching. We later found them buried under other bodies".

Naseer's own daughter Komal, 5, sister Saeeda, 27, and nephew Ali, 5, were also injured in the blast. The three victims have been moved to Karachi for medical treatment.

Komal is in a critical condition. Doctors believe she was hit by shrapnel in the stomach and her intestine had come out.

Sehwan attack: The best friends who faced death hand in hand

Saeeda and Ali had received cuts and bruises from shattered pieces of glasses. They had been given preliminary medical aid at the taluka hospital in Sehwan, and were later referred to Jinnah Postgraduate Medical Centre in Karachi.

"I don't how will I survive this loss," Naseer said, adding that his wife was looking after their daughter at the hospital, while he managed the five burials.

A man present among the mourners, Zameer Hussain, said that the family didn't have enough money to bear the expenses of the funeral rites and transportation.

"Their neighbours and relatives helped them bear the expenses," he added.

Published in The Express Tribune, February 20th, 2017.
COMMENTS (2)
Comments are moderated and generally will be posted if they are on-topic and not abusive.
For more information, please see our Comments FAQ