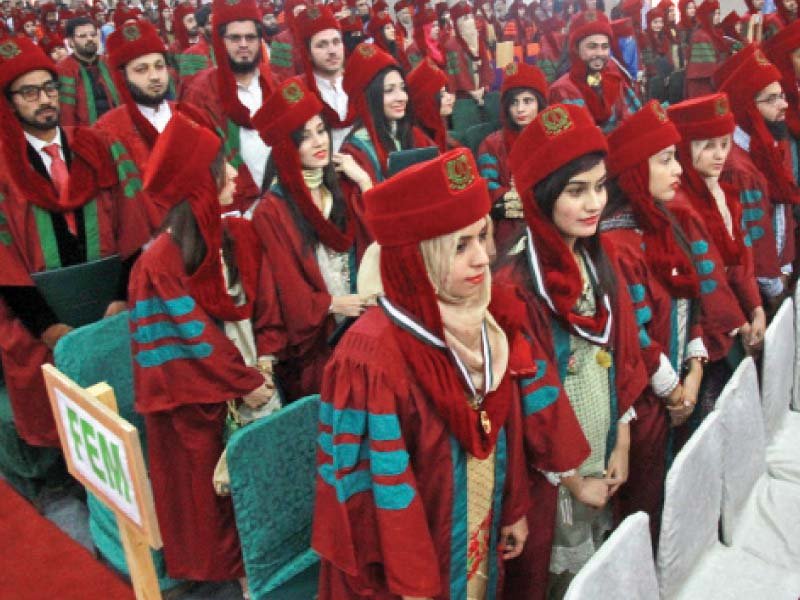 ---
KARACHI: Garbed in maroon gowns with seven different coloured stripes, each representing a different faculty, 1,395 students held their heads high at the Hamdard University and received their degrees on Saturday.

Of the total students, there were 817 degree recipients present at the ceremony, while 578 degrees were awarded in absentia, including 13 PhDs and 56 MPhils, at the 21st convocation of the varsity at the main campus in Madinatal Hikmah.

Addressing the graduating students, the chief guest at the ceremony, Japanese consul-general Toshikazu Isomura, said he believed that the shift in the present-day systems of education is geared towards quality rather than quantity. "A modern university has to keep pace with the parameters of education set by the internationally changing requirements of human resources," he said.

Graduation Ceremony: SMIU holds its first convocation

Speaking on the occasion, Hamdard University Chancellor Sadia Rashid congratulated the graduating students and told them their success is the fruit of struggles and sacrifices of their parents as well as their teachers. "Once you start your career, you and your work will contribute to the national pool of skilled manpower and it will sustain you economically and socially as well as contribute to the national wealth," she added.

Narrating the history of Hamdard University, she said it was founded in 1906 in Delhi, India, by Hakim Abdul Majeed, who died at the age of 30, when his elder son, Hakim Abdul Hameed, was eight years old and his younger son, Shaheed Hakim Mohammed Said, was only two years old.

Said founded Hamdard in Karachi in 1948 in a modest setup, but with the power of his personal dynamics and hard labour, he made Hamdard a big enterprise and institution of national repute.

The vice-chancellor of the varsity, Prof Dr Hakim Abdul Hannan, said the university has been imparting education via seven faculties - medical and health sciences, eastern medicine, engineering, management sciences, pharmacy, education and law.

Convocation: 370 students graduate from Isra University

Apart from the degrees, 26 Hamdard University gold medals in each department, eight Shaheed Hakim Mohammed Said gold medals and seven gold medals from the Institute of Engineering were also awarded to students who bagged the first positions in their faculties.

Gold medallist in electrical engineering, Noman Ahmed, is the first gold medallist in his family and sees this as a great encouragement. "I will be applying for my Masters to Australia, US or Canada but will come back to my country to serve it," he said.

Isomura, Rashid and Prof Hannan gave away the degrees and medals to the graduating students.

Published in The Express Tribune, February 20th, 2017.