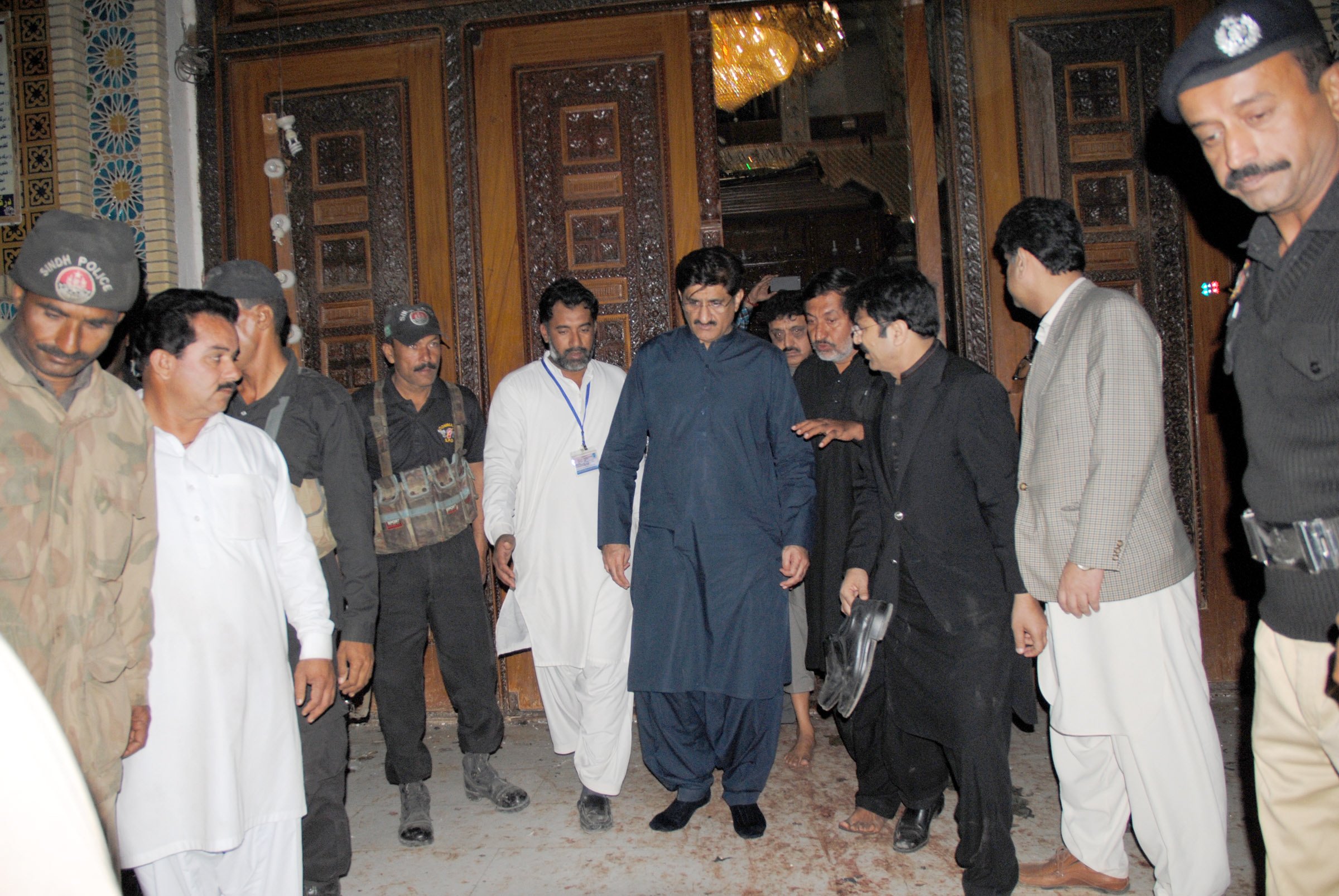 ---
HYDERABAD: Reflecting his government's sense of urgency for protection of shrines, Chief Minister Murad Ali Shah visited on Sunday both of the biggest shrines in Sindh.

"Through this barbarous act of terror [Sehwan blast], the masterminds can't stop the devotees from going to the shrines of Sufi saints for spiritual awakening," he said, while speaking to the media in Bhit Shah, Matiari district, at the shrine of Hazrat Shah Abdul Latif Bhitai.

Two PPP local government representatives 'held' in connection with Sehwan blast

Earlier, he also went to Sehwan where a suicide blast on Thursday at the shrine of Hazrat Lal Shahbaz Qalandar claimed 88 lives and left hundreds of people injured.

"The faithful people will continue to come to the shrines without fear," he asserted, pointing out that normal attendance of devotees at Qalandar's shrine resumed on the very second day after the blast. "This is a powerful message to the terrorists that they cannot decimate our courage."

The CM observed that the people who died in the Sehwan attack belonged to all the four provinces of the country. "It shows that we have places of peace and love where people, regardless of any distinctive identity of race, religion, language or sect, gather." He underscored that tightening security at the shrines by means of deployment, body searches, walk-through gates, metal detectors and closed-circuit television cameras has become indispensable. Shah said for effective implementation of the security plan, his government is taking into confidence the sajjada nasheen (custodians) of all the shrines in the province. Shah said Sindh was implementing the National Action Plan (NAP) more effectively than other provinces. Under the NAP, a security operation has been carried out in Sindh's border districts, including Kashmore, Jacobabad and Shikarpur, he added.

Strengthening legislation: Bilawal reiterates need to 'implement NAP'

Talking to the media in Sehwan, he expressed outrage at the alleged dumping of limbs of the blast's victims in a garbage heap. "I have directed the officials to take action against whoever is responsible for this," he said, adding that the reported incident further exacerbated his sadness.

The CM expressed satisfaction over the investigation into the Sehwan blast case, saying the law enforcement agencies have made progress. "They [LEAs] are probing the case [and are headed] in the right direction."

The CM also inspected different parts of the shrine and was briefed by local officials. He reached out to the families in Sehwan who lost their loved ones in the attack and condoled with them regarding their loved ones' deaths.

Published in The Express Tribune, February 20th, 2017.