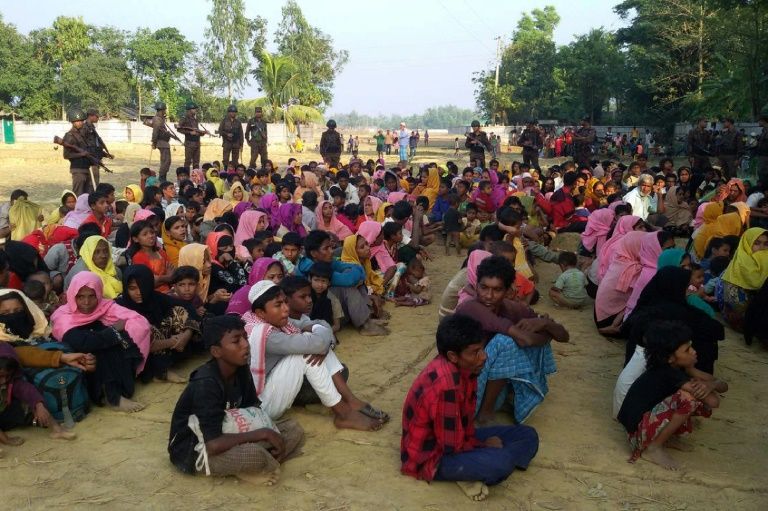 ---
DHAKA: Hundreds of Rohingya who fled to Bangladesh to escape persecution in Myanmar have returned home, community leaders said on Sunday, adding that most had gone back temporarily to fetch relatives.

Tens of thousands of Rohingya have fled across the border from Myanmar's western state of Rakhine since October to escape a bloody crackdown by troops and police.

Dudu Mia, a refugee camp leader in the coastal town of Teknaf, said nearly 1,000 Rohingya - mostly young men - had returned to their home villages to collect elderly family members left behind earlier.

"Most of those men are hoping to bring their relatives back to Bangladesh. It's been four months and they have barely even talked to their parents back home," Mia told AFP.

Muslim nations to heap pressure on Myanmar over Rohingya

Myanmar's army has halted its operations in the north of Rakhine, a senior official said last week, ending the four-month crackdown which the UN has warned may amount to crimes against humanity.

Hundreds from the Rohingya Muslim minority are thought to have died and almost 70,000 have fled to Bangladesh since the military launched a campaign to find militants who attacked police border posts.

Bangladeshi authorities estimate 400,000 Rohingya refugees are now living in Bangladesh, including the 70,000 most recent arrivals.

Escapees have given harrowing accounts of how security forces raped, killed and tortured Rohingya and burnt their houses to the ground.

Another Rohingya leader said some of the refugees had left Bangladesh permanently because their home villages had not been damaged by the Myanmar army and they had properties to protect.

"They left (their homes) because they were panicked. They didn't want to stay here as beggars, rather they would live in their own houses and work at land back home," he said on condition of anonymity.

OIC asks Myanmar to uphold rights of Rohingya Muslims

The Border Guard Bangladesh confirmed that some Rohingya refugees had gone back to Myanmar.

"Scores of Rohingya people have reportedly returned home in last few days," said local commander Abujar al-Jahid.

"But we're remaining on high alert about any illegal infiltration."

A satellite image published last year by Human Rights Watch showed how Myanmar troops burned down Rohingya villages, displacing thousands.

Most of the Rohingya who fled to Bangladesh are now living in squalid conditions in refugee camps in the Cox's Bazar district, which borders Rakhine and is also home to the country's biggest tourist resort.

Bangladesh has already approved a controversial plan for their relocation to an island and instructed officials to identify undocumented Myanmar nationals as part of the campaign.